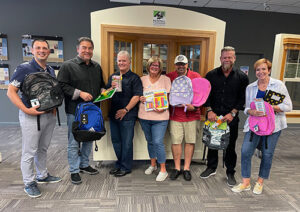 Community, businesses and civic groups are asked to join to help donate new school supplies to equip less fortunate Central PA youth with success!
"Stuff the Trailer 4 Success" will occur from 11 AM – 1 PM at the Renewal Showroom—August 12
Renewal Cares "Back 2 School Drive 4 Success" will kick off August 1 and run through August 12 to help less fortunate students in Central Pennsylvania by teaming up with the Harrisburg area nonprofit "All You Can Inc." and iHeart Media with school supply donations being collected at the RbA Mechanicsburg Showroom. Donations are requested from the public, businesses, civic groups, clubs, Scouts and beyond. Anyone donating can enter to win free gift card giveaways.

"We know that far too often families struggle with the cost of food, housing, utilities or school supplies, especially with inflation. As a caring and community-minded business leader in our region, the Renewal team is happy to assist students and families who can't afford essential school supplies by equipping them for success and showing them we all care. Our goal is to make sure our youth have a winning chance to succeed in the school year ahead. We are grateful to our partners at iHeart Media and All You Can Inc. for joining us for this important project to spread learning tools and hope across our region," says Linda Johnston, Chief Culture Officer, Renewal by Andersen of Central PA.
From August 1 – 12, Renewal by Andersen is asking individuals and businesses throughout the Mid-State and beyond to drop school supplies or gift cards at their Collection Site: Renewal by Andersen of Central PA (RbA), Mechanicsburg Showroom, 4856 Carlisle Pike during business hours Monday through Saturdays or order online and have them shipped there. On Saturday, August 12, a special event, "Stuff the Trailer 4 Success" will occur from 11 AM – 1 PM at the Renewal Showroom along with iHeart Media who will broadcast from a live radio remote during the final day of the School Drive. Snacks to be provided.
The School Drive will benefit youth served by Harrisburg nonprofit, All You Can Inc., that provides basic needs and emergency resources to at-risk families in inner cities in the Harrisburg region and beyond.
"We are truly grateful to Renewal by Andersen and iHeart for empowering young minds with the educational tools they need to succeed and by lending a hand to start the school year off bright for our talented youth. We are asking others throughout the area to join us to make a meaningful difference in the lives of families who struggle to provide these back-to-school essentials," states Ralph Rodriguez, President, All You Can Inc.
Johnston adds, "Your contributions to our "Back 2 School Drive 4 Success" will play a vital role in supporting high-need students and to ensure they have access to necessary supplies for a brighter future and for a positive start to their school year. We're hopeful that together, we can make a real difference in these children's and family's lives and remove this financial burden."
SOME KNOWN FACTORS:
With inflation driving up the affordability of essential household purchases, back-to-school supply prices have increased, making it difficult for some families, especially those living in poverty. Areas with high poverty rates are typically the areas where schools are struggling with these costs.
Studies show that children having school supplies of their own can improve grades, creativity, attitude towards learning, behavior, peer relationships and self-image.
Education is the first step to overcoming poverty. A single pack of pencils and paper can be the gateway to a bright promising year.
Children need to be equipped to have a better learning experience, and supplies are part of that.
"Renewal Cares Back 2 School Drive 4 Success" OVERVIEW: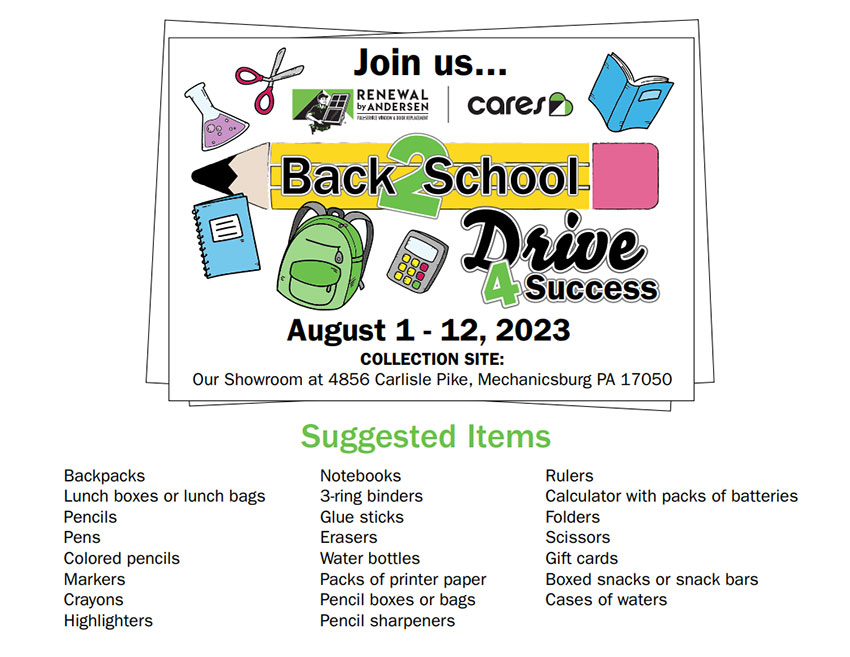 This collaboration will benefit Harrisburg area & Central PA youth by equipping them with essential school supplies. Sample Donation Items Needed:
Backpacks, lunch boxes or lunch bags, pencils, pens, colored pencils, markers, crayons, highlighters, notebooks, 3-ring binders, glue sticks, erasers, water bottles, packs of printer/copier paper, pencil boxes or bags, pencil sharpeners, rulers, calculator with packs of batteries, folders, scissors, gift cards, boxed snacks or snack bars, cases of water or juice boxes.
Collection Site:
Renewal by Andersen Showroom
4856 Carlisle Pike, Mechanicsburg during business hours