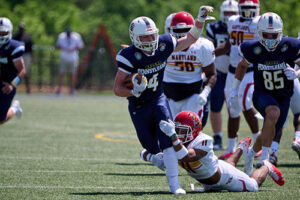 Memorial Day Weekend festivities to honor our military and include the premier Big 33 high school football game on Sunday, May 28 featuring top all stars from Pennsylvania and Maryland plus buddies and cheerleaders
Every NFL Super Bowl has proudly featured Big 33 Alums!
WHAT: Pennsylvania's 38-member Big 33 team will be announced for the 66th Football Classic. The Team Announcement and Roster Release video will be released on Friday, February 17th at Bishop McDevitt High School at 10:30 a.m.

Attending the Team Announcement will be:
Garry Cathell, Executive Director, PSFCA
Dauphin County Commissioners
PA Senator Mike Regan
PA Big 33 Coach Mike Farr, Schuylkill Haven
Local Big 33 PA Team players
Local Big 33 Cheerleaders
The Peyton Walker Foundation
Bishop McDevitt High School

The Pennsylvania Scholastic Football Coaches Association's (PSFCA) 66th Big 33 Football Classic will be played on Sunday, May 28 at Bishop McDevitt's Rocco Ortenzio Stadium in Dauphin County. Kickoff is 7 p.m.

Under the leadership of the Pennsylvania Scholastic Football Coaches Association, the Dauphin County Commissioners and Commonwealth of PA are partnering to support the PSFCA Big 33 Football Classic, that has also been described as the "Super Bowl of High School Football," and has chosen a team since 1957.

In addition to the Big 33 Football Classic, rosters for the Titan Threadz PSFCA East/West All-Star games will be announced on the PSFCA website on Saturday, February 18. (1-3A Small Schools 10:00 a.m. / 4-6A Big Schools 12:00 noon)
WHEN/WHERE: Friday, February 17, 10:30 a.m. / Bishop McDevitt HS (1 Crusader Way, Harrisburg)
"We are proud to announce this year's outstanding roster of extraordinary, high-achieving, talented student athletes for one of the ultimate games in high school football. We look forward to watching these future collegiate and NFL stars, who are now part of the Big 33 family and traditions. Beyond the high-energy annual football match up, we enjoy offering our exceptional big-hearted Buddies with special needs a fun, meaningful opportunity to team up with the players and cheerleaders, often cultivating life-long friendships. We hope sports fans of all ages join us for a weekend filled with family events, military recognition, spectacular football and beyond," said Garry Cathell, executive director of PSFCA and the Big 33 Football Classic.
Some well-known Big 33 alumni and NFL greats include: Joe Namath, Joe Montana, Dan Marino, Jim Kelly, Ricky Waters, Ben Roethlisberger, Kyle Brady, Jordan Hill, and Damar Hamlin. The Big 33 Buddy Program is designed to partner youth with special needs with a Big 33 cheerleader or football player. Cheer buddies participate in the halftime routine. All buddies enjoy time with their players and cheerleaders during Big 33 weekend.
For more information, go to www. big33.org or follow them on Facebook @Big33FootballClassic, Instagram @PFSCABig33FootballClassic or on Twitter @psfcabig33. Money raised from the game helps support all PSFCA Big 33 programs, including the Big 33 Buddy Program which connects individuals with special needs with all-star athletes in football, cheerleading and beyond. Proceeds also assist in supporting military appreciation aspects of the Memorial Day Weekend.