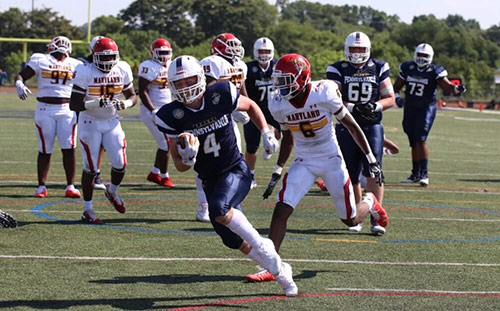 WHAT: Pennsylvania's 38-member Big 33 team for the 66th Football Classic will hold its first team practice, and receive FREE heart screenings by The Peyton Walker Foundation and UPMC, thanks to the support from Renewal by Andersen of Central PA.
Attending:
Garry Cathell, Executive Director, Big 33 and PSFCA
PA Big 33 Coach Mike Farr, Schuylkill Haven
PA Coaches
Big 33 PA Team players
Julie Walker, Peyton's Mom and Executive Director, The Peyton Walker Foundation
UPMC medical team
Linda Johnston, General Manager, Renewal by Andersen of Central PA
Nancy Ryan, Renewal by Andersen
Pennsylvania Coaches Association's (PSFCA) 66th Big 33 Football Classic will be played on Sunday, May 28 at Bishop McDevitt's Rocco Ortenzio Stadium in Dauphin County. Kickoff is 7PM, Fan Experience opens at 3 PM, Gates open at 5:30 PM, Pre-Game Ceremonies at 6:15PM.
WHEN/WHERE: Sunday, April 23, 9 AM – Noon & 1 PM – 5:30 PM / Cumberland Valley High School, 6746 Carlisle Pike, Mechanicsburg, PA 17050
SCHEDULE:
9 AM – Noon: Players Arrive, Heart Screenings in Field House by PWF and UPMC, Helmet Fittings
Noon: Lunch
1 PM – 2:45 PM: Practice #1, Cumberland Valley Chapman Field, if raining on the indoor turf field
3:30 PM – 5:30 PM: Practice #2
Under the leadership of the Pennsylvania Scholastic Football Coaches Association, the Dauphin County Commissioners and Commonwealth of PA are partnering to support the PSFCA Big 33 Football Classic, that has also been described as the "Super Bowl of High School Football," and has chosen a team since 1957. Every NFL Super Bowl has proudly featured Big 33 Alums! The premier Big 33 high school football game will take place on Sunday, May 28 featuring top all stars from Pennsylvania and Maryland plus buddies and cheerleaders and military recognition festivities. Military and veterans get in FREE!
"We are excited to see our Big 33 players in action on the field and to have them come together as a team this weekend. Most importantly, we are grateful to The Peyton Walker Foundation, UPMC and Renewal by Andersen of Central PA for helping to make sure our extraordinary student athletes are heart healthy, thanks to the free Heart screenings that will be provided," said Garry Cathell, executive director of PSFCA and the Big 33 Football Classic.
"We value our partnership with the PSFCA Big 33 and UPMC, especially given the fact that Sudden Cardiac Arrest is the number one killer of student athletes. This weekend we will provide a baseline electrocardiogram ("EKG") and if needed, an echocardiogram. These tests can help to detect hidden heart issues and hopefully prevent incidences of SCA from occurring. We are appreciative that Renewal by Andersen of Central PA is sponsoring this year's heart screening of PA's top athletes," added Julie Walker, Peyton's Mom and Executive Director of The Peyton Walker Foundation.
Some well-known Big 33 alumni and NFL greats include: Joe Namath, Joe Montana, Dan Marino, Jim Kelly, Ricky Waters, Ben Roethlisberger, Kyle Brady, Jordan Hill, and Damar Hamlin. The Big 33 Buddy Program is designed to partner youth with special needs with a Big 33 cheerleader or football player. Cheer buddies participate in the halftime routine. All buddies enjoy time with their players and cheerleaders during Big 33 weekend.
For more information, and tickets go to www. big33.org or follow them on Facebook @Big33FootballClassic, Instagram @PFSCABig33FootballClassic or on Twitter @psfcabig33. Money raised from the game helps support all PSFCA Big 33 programs, including the Big 33 Buddy Program which connects individuals with special needs with all-star athletes in football, cheerleading and beyond. Proceeds also assist in supporting military appreciation aspects of the Memorial Day Weekend.
The Peyton Walker Foundation is one of the country's prominent heart screening advocates and leaders in providing CPR and AED training and equipment donations. For More information on The Peyton Walker Foundation, their life-saving work and Sudden Cardiac Arrest, go to PeytonWalker.org.