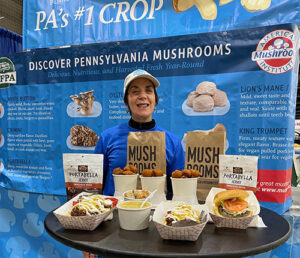 Mushroom Farmers of Pennsylvania (MFPA) presents a first-ever "Mushroom Healthy Happy Hour" on Tuesday, January 10, 4:30-5:30 p.m. at the Lancaster Farming Stage, Giant Exhibition Hall.
Farm Show attendees and media are invited to meet Leslie Bonci, sports dietician for professional sports teams, author, blogger, recipe developer, speaker, and all-around mushroom fan-girl who will speak on mushrooms, their nutritional value, and how consumers can incorporate mushrooms into a healthy diet easily and affordably.
WHO:
Gale Ferranto, Committee Member, Mushroom Farmers of PA; President, Buona Foods
Leslie Bonci, MPH, RD, CSSLD, LDN, owner of Active Eating Advice
WHAT: Mushroom Farmers of PA "Mushroom Healthy Happy Hour"
WHEN: Tuesday, Jan. 10, 2023, 4:30 – 5:30 p.m.
WHERE: Lancaster Farming Stage, Giant Exhibition Hall, PA Farm Show Complex and Expo Center, 2300 Cameron Street, Harrisburg, PA
"We are excited to host our inaugural 'Mushroom Healthy Happy Hour' where Farm Show visitors can learn about the health benefits of fresh mushrooms; the ultimate superfood, filled with a host of vitamins and nutrients, with little to no calories, fat, sugar, or gluten," said Gale Ferranto, MFPA committee member and president of Buona Foods.
"Through Leslie's enthusiasm, visitors will learn about the benefits of mushrooms, easy ways to incorporate them into their diets, have a little fun with mushroom trivia and a chance to win prizes, and walk away with a better understanding of how mushrooms can Feed Your Immune System," she added.
Attendees can purchase mushroom dishes at the Mushroom Food booth and receive a coupon for $1.00 off the N E W Blended Mushroom Steakhouse Burger. Attendees will also be entered to win a Mushroom Gift Basket.
For more information on the nutritional benefits of mushrooms, visit www.mushroomcouncil.com.
About Mushroom Farmers of Pennsylvania:
Mushroom Farmers of Pennsylvania (MFPA), headquartered in Avondale, Pennsylvania, is a statewide, voluntary group representing the growers, processors and marketers of cultivated mushrooms in the Commonwealth of Pennsylvania. For more information, visit www.americanmushroom.org.
Mushroom Facts:
PA is the Mushroom Capital of the World.
Mushrooms are big business in PA, with an economic impact of $1.3 billion, supporting nearly 9,400 jobs and $313 million in wages.
Mushroom growers are the original recyclers: growing one pound of mushrooms uses less than 2 gallons of water, just 1 kw of energy, and less than 1 pound of CO2 equivalents.
Nearly 60% of all mushroom production occurs in southeastern PA, specifically Chester and Berks county.
Mushrooms are plant-based superfood; high in vitamins and minerals, low in calories and sodium, and fat-, cholesterol-, and gluten-free.
Mushrooms are grown year round.