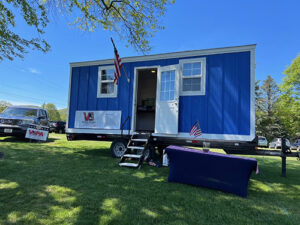 A successful Greystone Derby Day Battle of the Roses Charity event was held on Saturday, May 6th that included a day full of Kentucky Derby fun to raise funding for our veterans, through Veterans Outreach of Pennsylvania or VOPA.
A check presentation and brief program will be held to announce the MAJOR donation from the fundraiser and present it to Veterans Outreach of Pennsylvania (VOPA) at Greystone Brew House in Dillsburg, where a model of a Tiny Home will be on location.
WHEN: Monday, May 22, 4:00 PM
WHERE: Greystone Brew House, 303 Golf Club Ave, Dillsburg, Pa.
WHO: Shirly Frisch and Cate Oyler, Co-chairs, Greystone Derby Day Committee
Thomas Zimmerman, Co-founder and Jordan Ames, Executive Director, VOPA
Greystone Derby Day Committee members, VOPA, and Sponsors
How Greystone Derby Day Benefits VOPA:
By participating in Derby Day, everyone DIRECTLY supported VOPA's Tiny Homes Project and Community. Proceeds from Derby Day will help combat homelessness with Veterans Outreach of PA as they build a tiny home community to support Veterans through access to housing, health, wellness, education, employment, and countless of other services. GreystoneDerby.com
Veterans Outreach of Pennsylvania is a 501(c)(3) nonprofit devoted to combatting homelessness among Veterans by providing the support and services needed to promote an empowered life, filled with strength and purpose. We endeavor to restore trust and create opportunities, one Veteran at a time, by constructing a therapeutic community comprised of 15 tiny homes and a community center for meals, health care, job training, socialization, and other supports. More information can be found at www.veteransoutreachofpa.org.