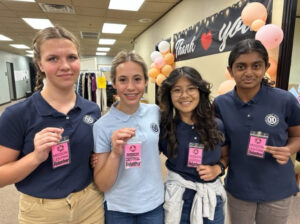 Harrisburg Academy (HA), the premier, private, co-ed, Pre-K-Grade 12 school in Central Pennsylvania, begins the 2023-24 academic year on August 29 with a new Head of Early Childhood and Lower School, Sarah Oatney-Weiler. Ms. Oatney-Weiler comes to the Academy after serving as the Head of School of a Pre-K to Grade 9 bilingual school in Sao Paulo, Brazil. She has worked across 3 continents over her 20+ year career in education, as a classroom teacher, school leader and educational consultant. In addition to two masters degrees (Global Education and Social Sciences), she is currently finalizing her Ph.D. in Education at University College London — Institute of Education. Her dissertation explores the development of student agency through play pedagogy. Ms. Oatney-Weiler is a published author who strives to support teachers to transform education to meet the needs of the 21st century.
"We are tremendously excited to introduce Sarah Oatney-Weiler to our students and the wider Academy community and to benefit from her unique focus on the importance of enhancing play throughout our educational curriculum. She brings a dynamic range of teaching and school leadership skills and international experiences combined with a creative, collaborative spirt that will engage our youngest learners to enthusiastically begin their educational journey," says Adrian Allan, Head of School.
HA – Sole K-12 IB World School in Central PA
As an International Baccalaureate (IB) World School, HA embraces a whole child-focused educational approach from the pre-school years through Upper School graduation. The faculty and curriculum nurture each student through rigorous academics, hands-on experiential learning, critical-thinking and problem-solving skills, small class sizes, individual attention, and an understanding of their responsibility as global citizens to make the world a healthier, stronger and more welcoming place for all.
"I am so pleased to join the Harrisburg Academy community of learners, dedicated to developing globally minded students who know how to reason through contemporary problems and utilize their knowledge to address them. I hope that I will be able to contribute my years of experience internationally and scholarship to strengthen and expand the first-rate program that currently exists here," says Ms. Oatney-Weiler.
The Academy comprises the Early Childhood (EC) and Lower School (LS) Primary Years Programme (PYP), the Middle School (MS) Middle Years Programme (MYP), and the Upper School (US) Diploma Programme. The IB Diploma is recognized and accepted by top universities and employers around the world.
HA Hosts "Spartan Sneak Peek" July 20, 6 PM
The Academy will host a "Spartan Sneak Peek" on July 20 at 6 PM for anyone who is interested in visiting campus, learning more about the IB Programme or wanting more information about enrolling in HA.
Niche, headquartered in Pittsburgh, Pa., is the market leader in connecting colleges and schools with students and families with in-depth profiles on every school and college in America, selected Harrisburg Academy among the top 30 private high schools in Pennsylvania for 2022.
HA also was voted Best Private K-12 school in the 2022 Central Penn Business Journal's Reader Rankings survey. The Academy has consistently been the top winner or a finalist in that survey for the last four years.
"Over the summer, many of our faculty and students accelerated their learning through school-sponsored and private trips abroad, full- and part-time jobs and at study programs here in the United States. We encourage our learners to take the time to explore more deeply their personal interests and exposure to diverse cultures and career opportunities. We also offer local immersive internships and ongoing community service projects during the academic year," notes Lindsay Bowman, Head of Middle and Upper Schools.
Enrollment for pre-K through Upper School is rolling and open. To learn more and to apply, please visit HarrisburgAcademy.org, or call 717-763-7811.
Harrisburg Academy's Mission
Harrisburg Academy offers an academically challenging and globally minded interdisciplinary education. In our commitment to excellence, we provide tools, develop character, and teach skills that prepare students to thrive in college and beyond, thereby contributing to the betterment of our global and local communities. HarrisburgAcademy.org.