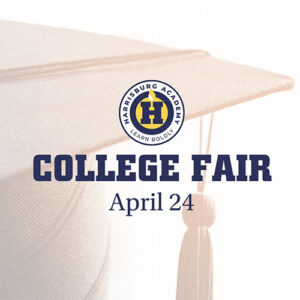 Harrisburg Academy, the Capital Region's premier, and one of the nation's oldest, private, independent, co-ed, preschool-12 Grade schools, hosts its annual FREE Spring College Fair for Central PA high school students on April 24 from 6-8 p.m. Representatives of more than 75 colleges and universities will be on the Academy campus to interact with students and their families.

Harrisburg Academy presents this year's College Fair In conjunction with Lancaster Country Day School and York Country Day School. Any area students in grades 9-11 are invited to register for the College Fair at www.strivefair.com.

WHO:
Harrisburg Academy
Lancaster Country Day School
York Country Day School
Representatives of 75+ Colleges and Universities
Central PA High School Students and Families

WHAT: Spring 2023 College Fair

WHEN: Monday, April 24, 6-8 p.m.

WHERE: Harrisburg Academy, 10 Erford Rd., Wormleysburg, Pa.

"We are delighted to join with Lancaster and York Country Day schools to offer this engaging College Fair for students in the region who are actively considering options for post-secondary education. It's a free, convenient and interactive opportunity to meet and speak with dozens of higher education institution representatives," noted Adrian Allan, Harrisburg Academy Head of School. "One of a student's most important and difficult decisions is choosing a college, university, training program, the military or other setting for post-high school learning. Our College Fair can help students and their families chart a course to a wise decision that meets their personal and professional career goals."

"I encourage all local students who are starting their college-search journey to come to this Fair," added Loren Gordon, Harrisburg Academy Director of College Counseling. "It's a one-stop shop of sorts to get your first impressions of these schools, to understand and ask questions about their admissions criteria, their academic programs and requirements, opportunities for financial aid and scholarships, plus all the extracurricular and sports activities they offer. Harrisburg Academy and our partners Lancaster and York Country Day schools bring it together on one night at the Academy and encourage families to take advantage of this free program."

A full list of the schools sending representatives to the Fair can be found at www.harrisburgacademy.org/campus-life/college-counseling/college-fair. They include:

Boston University, Boston, MA
Purdue University, West Lafayette, IN
Kenyon College, Gambier, OH
Rochester Institute of Technology, Rochester, NY
St. John's University, Queens, NY
Syracuse University, Syracuse, NY
University of Vermont, Burlington, VT
University of Pittsburgh, Pittsburgh, PA
Bucknell University, Lewisburg, PA
Trinity College, Hartford, CT
Union College, Schenectady, NY

Attending students and parents will have access to a comprehensive College Fair Guide at the event, which provides a list of suggested topics and questions to discuss with college representatives. Harrisburg Academy will continually update the list of attending schools so that students and their parents can narrow down a list of colleges to engage with, and ask detailed questions about campus life, academic life, admission criteria and financial aid. As a student heading into higher education, it's important to know things like, whether freshmen are guaranteed housing, what the dorms are like, what clubs and activities are offered, lecture or class sizes, the programs or majors most popular at the school, admission deadlines and what the school looks for in an ideal candidate.

Students and parents interested in attending can find additional information on our website at https://www.harrisburgacademy.org/campus-life/college-counseling/college-fair or by calling (717) 763-7811.

Harrisburg Academy's Mission

Harrisburg Academy offers an academically challenging and globally minded interdisciplinary education. In our commitment to excellence, we provide tools, develop character, and teach skills that prepare students to thrive in college and beyond, thereby contributing to the betterment of our global and local communities.