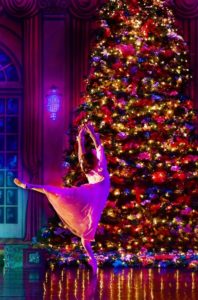 (ENOLA, PA – August 31, 2017) The Pennsylvania Regional Ballet kicks off its 30th anniversary celebration with an exciting calendar of special events beginning with its 2017-18 classes focused on classical ballet training with contemporary vision on September 5, 2017. Families can register their children, ages 3 to 18, at prballet.org.
"To watch the dancers grow into successful young adults with confidence and discipline for the past 30 years, is truly rewarding," says Wendy Mowery, president of the board, Pennsylvania Regional Ballet. "Thousands of dancers have had their lives touched and changed through the art of dance for three decades. We've witnessed incredible talent blossom and aspirations achieved through the program and its internationally renowned mentors who are master instructors in our studios."
The 30th anniversary continues with the Pennsylvania Regional Ballet production of The Enchanted Nutcracker Tea on Sunday, November 12, 1 p.m. at the West Shore Country Club, 100 Brentwater Rd, Camp Hill. Tickets are $25/person and are available at prballet.org. The afternoon includes a child-friendly luncheon, a narrated preview from the school's production of The Nutcracker, autograph signings and photo opportunities with the story's major characters, vendors who will be offering holiday items for sale and a silent auction.  Tickets go on sale September 1st.
"I'm so proud that for 30 years, we've seen young people excel beyond their goals as they challenge themselves and each other daily, while collaborating as an extraordinary dance company," says Sandra Carlino, Artistic Director, Pennsylvania Regional Ballet. "We are thrilled to offer intensive, superior classes for serious, dedicated ballet students through our versatile curriculum which enhances other areas of our students' lives. Our exceptional teachers hail from around the dance world. Our 30-year history brings a wealth of high quality training and high energy performing opportunities."
The Pennsylvania Regional Ballet launches the holiday season with a Christmas Classic: The Nutcracker, sponsored by Select Medical. Special guest and internationally renowned principal ballerina Gillian Murphy, accompanied by principal dancer James Whiteside from American Ballet Theatre in New York City, will lead a full cast of Pennsylvania Regional Ballet dancers during all public shows. During public performances, a live orchestra will include local musicians. The magical performances take place on December 2 (1 p.m. and 5 p.m.) and December 3 (2 p.m.) at the Scottish Rite Theatre, 2701 N. Third St., Harrisburg. Tickets go on sale on September 15 at prballet.org or by calling (717) 732-2172.
Ticket prices are $30/Adults; $20/Senior; $15/Student; $10/Children 3-6. In honor of the celebration, special pricing is being offered for Girl Scout troops at the December 2 matinee performance, along with other area youth organizations.
Educational performances are an important part of the Nutcracker weekend.  Two shows, specifically for school and homeschooling groups, will be held Friday, December 1st with narration by local media celebrities and sponsored by McNees Wallace & Nurick LLC.  For information on bringing your school groups, please call 717-732-2172 or email info@prballet.org.
More 30th Anniversary celebrations are planned for 2018, including the organization's 30th Anniversary Spring Gala Concert to celebrate the rich history of its students and staff, and includes original choreography by alumni and professionals from around the dance world. The Summer Concert features all students, ages 3-18, in a variety of dance disciplines.
For an updated list of Pennsylvania Regional Ballet events, registration and ticket information, visit prballet.org.
ABOUT THE PENNSYLVANIA REGIONAL BALLET:
Established in 1988, and recognized as a leader in the training of aspiring young dancers, teachers and choreographers, the Pennsylvania Regional Ballet provides professional training in classical ballet, modern, tap and jazz relative to musical theatre, and contemporary ballet style, introduced through the company's repertoire. Acclaimed for choreography, the Pennsylvania Regional Ballet welcomes students each year to grow and be taught by some of the best dance instructors in the world. The Pennsylvania Regional Ballet is committed to providing professional dance training, nurture individual artistic quality and versatility, and is known for the faculty's dedication to the emotional and physical well-being of the students. Pennsylvania Regional Ballet alumni currently are attending prestigious university dance programs, performing with professional companies, choreographing, teaching and serving as artistic directors internationally.
The Pennsylvania Regional Ballet is located across the Susquehanna River from Harrisburg at 211 North Enola Drive, Enola, PA 17025. Follow the Pennsylvania Regional Ballet on social media:
Facebook: facebook.com/PRBallet | Twitter: @PARegBallet | Instagram: @paregionalballet
ABOUT GILLIAN MURPHY:
Gillian Murphy will star as the Sugar Plum Fairy in the Pennsylvania Regional Ballet production, of The Nutcracker in early December. Murphy performs with American Ballet Theatre in New York City. Raised in Florence, South Carolina, Murphy began her ballet training at the age of three in Belgium and continued her ballet classes at the age of five in South Carolina. After training in South Carolina as a member of the Columbia City Ballet, she continued her studies at the University of North Carolina School of the Arts where she danced principal roles in several of the school's ballet productions including The Nutcracker and George Balanchine's Concerto Barocco, Western Symphony, Tarantella and Theme and Variations.
In 1994, at the age of 15, Murphy was a finalist at the Jackson International Ballet Competition. She has been awarded the the Prix de Lausanne Espoir (1995), a National Young Arts Foundation Winner in Dance (1996),was honored with a Princess Grace Foundation-USA grant (1998), The Princess Grace Foundation's highest honor, the Statue Award (2009), and was awarded an Honorary Doctorate from her alma mater, the University of North Carolina School of the Arts (2014).
Murphy has appeared as a guest artist in Japan, Mexico, Germany, Italy, Canada and throughout the United States. Guest appearances include the Royal Swedish Ballet, the Kiev Ballet and the 2009 world premiere of a new production of The Nutcracker, directed and choreographed by Ethan Stiefel for the University of North Carolina School of the Arts. Murphy joined American Ballet Theatre as a member of the corps de ballet in August 1996, was promoted to Soloist in 1999 and Principal Dancer in 2002.
ABOUT JAMES WHITESIDE:
Born in Fairfield, Connecticut, James Whiteside began his training at age nine at the D'Valda & Sirico Dance and Music Centre, where guest faculty included Charles Kelley, Franco De Vita and Raymond Lukens. He continued his training at the Virginia School of the Arts for one year under the direction of Petrus Bosman and David Keener. In 2002, Whiteside joined Boston Ballet II, where he continued to train under the tutelage of its director Raymond Lukens, now director of ABT's National Training Curriculum. Whiteside joined the corps de ballet of Boston Ballet in 2003 and became a second soloist in 2006. He was promoted to first soloist in 2008 and to principal dancer with Boston Ballet in 2009.  Whiteside joined American Ballet Theatre as a Soloist in September 2012 and was named a Principal Dancer in October 2013.  He has an extensive repertoire including creating The Man in AfterEffect and leading roles in Serenade after Plato's Symposium and With a Chance of Rain.