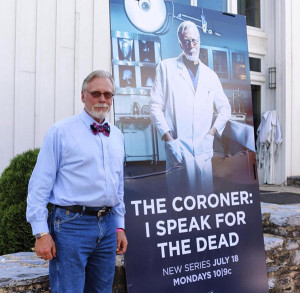 Spring Gate Vineyard to Offer Fans a Sneak Peek of THE CORONER: I SPEAK FOR THE DEAD, As Well As a Chance to Meet Hetrick and the Show's Producers
On Twitter: #TheCoroner
Harrisburg, PA (July 7, 2016) — Dauphin County Coroner Graham Hetrick and the popular Spring Gate Vineyard are pleased to announce a "Special Premiere Celebration and Screening Event" for Investigation Discovery's (ID) all-new series, THE CORONER: I SPEAK FOR THE DEAD, premiering to audiences across the U.S. on Monday, July 18 at 10/9c. The Harrisburg area winery (located at 5790 Devonshire Road, Harrisburg, PA) will open its doors to fans for the exclusive ticketed event on Sunday, July 17, from 6:00 – 9:30 p.m., with the sneak preview screening scheduled at 8:15 p.m. Tickets are available at www.eventbrite.com or $17.50 per person or at the door for $20. THE CORONER: I SPEAK FOR THE DEAD, is a gripping eight-part series bringing audiences inside Hetrick's most puzzling murder cases—and the work of a coroner who has truly seen it all in his 25 years on the job.
Spring Gate will host Hetrick, executive producer Tim Baney, and others featured in this exciting new series. Area dignitaries, supporters, law enforcement, and public officials will also participate. Because central Pennsylvania is Hetrick's hometown and served as a backdrop for some of the series' filming, friends and fans will receive this special opportunity to be the very first to watch the premiere episode, meet Graham and enjoy an exclusive wine tasting experience. A delicious variety of foods will also be available for purchase throughout the evening. Event attendees are encouraged to bring along their lawn chairs. Attendees must be at least 21 years of age.
"It's wonderful to receive this level of overwhelming support from my hometown of Harrisburg and Spring Gate, as well as from my friend—owner Marty Schoffstal— and to be able to share this incredible journey with friends, family and fans before my new series debuts across the nation," said the show's star Hetrick. "I'm extremely grateful to everyone who contributed to the series, from production to air, including area detectives, law enforcement officers, district attorneys, families involved, Dauphin County's public officials, along with my exceptional team of experts in the Coroner's Office."
"We are proud of Graham and looking forward to celebrating this huge milestone in his life," said Marty Schoffstall, owner of Spring Gate Vineyard. "I've known Graham for years and have a tremendous amount of respect for what he does each day in dealing with the complex world of helping to solve homicides and aiding families in their grief and coming to closure with the loss of loved ones."
Harrisburg Mayor Eric Papenfuse joined those congratulating Graham Hetrick and the show's debut. "We applaud Graham for telling the stories of the real people behind the tragedies. Harrisburg is one of the many cities in our nation battling crime, and Graham has been dedicated to helping not only solve crimes, but prevent them," he stated.
In the episode to be shown at Spring Gate—and premiering on ID on Monday, July 18, Iris, a young mother, is beaten and shot to death in her tough Harrisburg neighborhood. Investigators aren't lacking for suspects — but Hetrick sees signs of a crime of passion and believes Iris' killer could be hiding in plain sight.
ABOUT GRAHAM HETRICK
Graham Hetrick has been the Dauphin County coroner for over 25 years, overseeing hundreds of homicide investigations. He is a subject matter expert on drug abuse, child death and child abuse, organ tissue donation, violent crimes, medical legal death investigation, forensic methodology, and the grieving process. He has advanced training in blood pattern analysis, crime scene management, forensic sculpting, and shallow grave recovery. Graham has written and lectured widely on the subject of thanatology and the grieving process. His cases have been featured on Medical Detectives and Forensic Files, and he helped write and narrate the show Corps Tech for the History Channel. Most recently, he is featured on Discovery ID's new series, THE CORONER: I SPEAK FOR THE DEAD.
Graham grew up above his father's funeral home in Harrisburg. As a young man during the 1960's, he served in the United States Army. He was in the 385th Military Police, assigned to the 52nd Criminal Investigation Division. He was Provost Marshall for the Southern half of Germany, where he investigated a wide variety of forensic cases. Upon returning from the service, Graham completed his education and took over his father's business as funeral director for many years before becoming coroner.
An ardent supporter of community and local organizations, Graham is a member of the Colonial Park Rotary, advisor to Estamos Unidos of PA, and Publisher of La Voz Latina Central. Graham is also an adjunct professor at the Harrisburg University of Science & Technology where he teaches forensic courses and anatomy.
For more about Graham, please visit www.grahamhetrick.com.
ABOUT SPRING GATE VINEYARD
Located in the Harrisburg area, this 60-acre farm estate is isolated by nature from the vibrant community of people that surround it. From a Tasting Room, in a timeless Pennsylvania barn, to grounds which include vineyards, orchards, streams, patios, courtyards, paddocks and hop and beer gardens, Spring Gate Vineyard is a special place featuring live music, food, artisan beers, ciders and wines. The unique indoor social spaces include a Champagne bar, to "Enclosed Patio," "Adirondack Room" and "Beer Hall."
For more information about Spring Gate Vineyard and the event, please visit www.springgatevineyard.com.
ABOUT THE CORONER: I SPEAK FOR THE DEAD
Premieres Monday, July 18 at 10/9c on Investigation Discovery
In death, there are no secrets – but who can decode the mystery behind, and the cause for, the end of a life and reveal the truth? For many, the answer is a Coroner. This summer, Investigation Discovery (ID) presents THE CORONER: I SPEAK FOR THE DEAD with the seasoned Coroner in Dauphin County, Pennsylvania, Graham Hetrick. This all-new eight part series, features some of the most shocking murder cases and complex forensic investigations from the nearly 3,000 autopsies Hetrick has performed. Pulling back the curtain on what it is like to look to the dead for answers, THE CORONER: I SPEAK FOR THE DEAD will premiere on Monday, July 18 at 10/9c.
Each episode features one compelling homicide case pulled directly from Hetrick's personal files. From the moment he receives the call, to the crime scene where he is first introduced to the victim, to the autopsy, viewers are led through a series of twists and turns as Hetrick peels back the layers of the investigation to reveal how the murder happened and more importantly, who is to blame. Subsequent episodes will air July 25, August 1, August 8, August 15, August 22, September 5 and September 12.
Follow weekly updates, Graham's blog, insight into cases profiled and original video, along with other insider's information at www.grahamhetrick.com or on Facebook.com/GrahamHetrick, Twitter @GrahamHetrick, Instagram @GrahamHetrick. For network news, visit Investigation Discovery at investigationdiscovery.com
In Harrisburg area, ID is on Comcast XFINITY (Channel 111/HD 899), VERIZON FIOS (Channel 123/HD 623), DIRECTV (Channel 285) and DISH (Channel 192).
For other listings, please visit: http://www.investigationdiscovery.com/channel-finder
ABOUT INVESTIGATION DISCOVERY
Investigation Discovery (ID) is the leading mystery-and-suspense network on television. From harrowing crimes and salacious scandals to the in-depth investigation and heart-breaking mysteries that result, the "always revealing" network challenges our everyday understanding of culture, society and the human conditions. One of our nation's fastest growing cable networks, ID delivers the highest-quality programming to more than 85 million U.S. households and is available in both high definition (HD) and standard definition (SD).