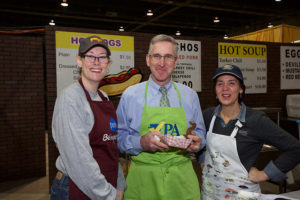 WHO: Pennsylvania Secretary of Agriculture Russell Redding; Pennsylvania Pork Producers Council; PennAg Industries Association; Mushroom Farmers of Pennsylvania; Pennsylvania Dairymen's Association.
WHEN & WHERE: January 5, 2017 at noon, PennAg Industries Food Booth in Pennsylvania Farm Show Complex Food Court, 2300 N Cameron St, Harrisburg, PA.
WHAT: Join Secretary Redding to enjoy the first taste of Pennsylvania Farm Show 2017 featuring:
Mushroom Farmers of Pennsylvania's new juicy Blue Ribbon Mushroom Blended Burger with 30% mushrooms and 70% beef, now topped with thick Pennsylvania Bacon and sizzling Grilled Portobellas finished with a special sauce and served on a famous Martin's Potato Roll along with lettuce, tomato, onion and cheese. Also returning are the delicious Original Breaded Mushrooms and other Pennsylvania Mushroom specialties.
PennAg Industries Association's celebrated Mouth-Watering Slow-Roasted Pulled Pork Barbeque, served on a famous Martin's Potato Roll or with the favorite Farm Show Loaded PA Pulled Pork Nachos made-to-order — includes Pennsylvania Pulled Pork, chili, cheese, and jalapenos piled on top of fresh nacho chips. Also, back by popular demand, is the savory chocolate-covered Hatfield Bacon.
Pennsylvania Dairymen's Association's legen-DAIRY vanilla and chocolate milkshakes.
ADDITIONAL DETAILS:
THE MUSHROOM FARMERS OF PENNSYLVANIA
Known as the "Mushroom Capital of the World," mushroom farms have been growing mushrooms in the Commonwealth for more than 120 years.  Last year, the 68 mushroom farms in the state produced 64 percent of all U.S. white mushrooms, valued at $570.5 million.  All Pennsylvania mushroom farms are family-owned and operated, some for as many as four or five generations.
FOOD BOOTH to also offer Ro-Ro's Famous Mushroom Salad, Grilled Portobella Sandwich, Cream of Mushroom Soup, and fresh PA Preferred® Pennsylvania Mushroom packages.
"SUSTAINBAILITY STATION" – Did you know that mushroom farmers are considered the "original recyclers" due to their use of the by-products of other commodities? Mushroom composters use everything from cocoa bean hulls to leaves when creating the compost that mushrooms use to grow.
"TAKE A MUSH-ROOM FARM TOUR" – Marvelous, interactive, up close, live mushroom-growing exhibit at the Farm Show Complex and Expo Center that engages the entire family in learning and fun.
"THE PA PREFERRED® CULINARY CONNECTION" – Mushrooms take the stage as noted chefs offer cooking demonstrations on Saturday, January 7, 2017 from 10 a.m. – 6 p.m. at the Farm Show Complex and Expo Center Main Hall. White House Chef John Moller shares presidential specialties featuring mushroom delights you can make at home.
"Mushroom Farmers of Pennsylvania on SOCIAL MEDIA" – Check out MFPA's Facebook page for updates to feature fun facts, recipes, historic photos, trivia and sharing opportunities for area restaurants, mushroom fans, wineries, and craft beer aficionada.
PENNAG INDUSTRIES ASSOCIATION
On Thursday, January 5th at 1:00 p.m., PennAg reveals the comeback of a beloved tradition at the Farm Show, the Duck Slide and the first-ever Chick Hatching Display. Join the reveal and #chickhatch2017 in the Weis Expo Hall, near the Farm-to-Shelf display. As PennAg prepares to hatch the first eggs of the 101st PA Farm Show, they have invited area leaders to lend their names to one of the eggs. For the first egg that hatches, PennAg will donate $1,000 in that person's name to the Central Pennsylvania Food Bank. There will be a photo opportunity and the chance to get a first look at the display.
FOOD BOOTH to continue to offer a great variety of other delicious poultry and fish food items along with tasty baked goods.
PENNSYLVANIA PORK PRODUCERS COUNCIL
"BECAUSE #BACON DOESN'T GROW ON TREES" –Learn about how pigs are raised and become pork from pig farmers themselves at the "Farm to Shelf" exhibit in the Weis Expo Hall.  While visiting the pork display you'll see a "sow" (mother pig) and her litter of piglets, sit in the pig chair for a #realpigfarming selfie, learn what cut of pork bacon, ham or chop is and where it comes from, and see what a pig barn looks like on the inside.  Most importantly, pig farmers will be on hand to answer questions about how they take care of the pigs that become #bacon.
"THE PA PREFERRED® CULINARY CONNECTION"–Will be all things "Pork on the Fork" Friday, January 13 starting at Noon when local chefs present cooking demonstrations highlighting pork at the PA Preferred® Culinary Connection in the Main Hall.  Each chef will go step-by-step through their dish, which will be available for sampling following the demonstration.  Pork recipes will be on hand throughout the day so you can Be inspired® with new pork dishes for your family's table.
PENNSYLVANIA DAIRYMEN'S ASSOCIATION
FOOD BOOTH will offer delicious vanilla and chocolate milkshakes, milk/chocolate milk, ice cream sundaes, deep-fried mozzarella cubes with marina sauce, toasted cheese sandwiches, and ice cream cones.
NEW Snapchat filter.
Milkshake-themed apparel to benefit Fill a Glass with Hope®:
"Milkshake Moolah" Gift Certificate $20.00 each (valid during 2017 PA Farm Show)
Adult Milkshake T-Shirts in various styles $17.99 (S – 2XL)
Youth Milkshake T-Shirts in various styles $15.99 (XS – XL)
Adult Embroidered Hat $14.99
Commemorative Milkshake Cup $14.99
For each "Milkshake Moolah" Gift Certificate and custom-designed t-shirt purchased, $1 will be donated to the Fill a Glass with Hope® campaign. During the Farm Show, milkshake fans can upload a picture of themselves and their shakes and hashtag #Shakes4Hope to PA Dairymen's Facebook page or post on Twitter or Instagram. Pennsylvania Dairymen's Association will then donate an additional $1 per post to Fill a Glass with Hope®. The t-shirts and gift certificates are available at​ ​www.padairymens.co​m​/store until the end of the 2017 Pennsylvania Farm Show.​ The 2017 PA Farm Show kicks off with the Food Court opening on January 6 at Noon and runs through January 14 at the PA Farm Show Complex in Harrisburg, PA. Fill a Glass with Hope® is a partnership between Feeding Pennsylvania, the Pennsylvania Dairymen's   Association, American Dairy Association North East and the Pennsylvania Dairy Promotion Program.