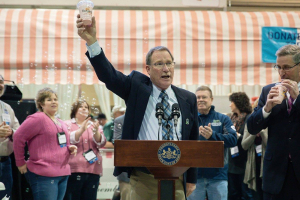 HARRISBURG, PA – For the first time in more than 60 years, the Pennsylvania Dairymen's Association today poured a new legen-DAIRY milkshake flavor at their Farm Show Food Court booth. Strawberries and Cream joins traditional vanilla and chocolate Dairymen's milkshakes to mark the 100th Pennsylvania Farm Show, the largest indoor agricultural exhibition in North America. It takes place through January 16, 2016 at the Pennsylvania Farm Show Complex and Expo Center.
"Pennsylvania farmers are innovators. We always strive to put the dairy industry at the forefront of progress so it seems entirely appropriate to mark a new century of the Pennsylvania Farm Show with a new legen-DAIRY milkshake flavor," said Dave Smith, executive director of the PA Dairymen's Association. "Strawberry is as American as apple pie and goes so well with vanilla and chocolate. It was both popular and a natural choice for the Dairymen. We're calling it Strawberries and Cream to celebrate the delicious wholesomeness of fruit and dairy."
On average, the Dairymen sell more than 150,000 milkshakes during Farm Show week. The proceeds benefit educational programs and youth scholarships.
Smith also joined with the Mid-Atlantic Dairy Association and Feeding Pennsylvania to announce the statewide expansion of the charitable fresh milk program they and Central Pennsylvania Food Bank began last January, Fill a Glass with Hope™. Pennsylvania now is the first and largest fresh milk distribution program in the U.S. Last year, donations to the Fill a Glass with Hope™ campaign enabled the Central Pennsylvania Food Bank to surpass 1 million servings of fresh, nutritious milk distributed to individuals facing hunger in 27 counties.
"By taking Fill a Glass with Hope™ statewide, our goal is to double the amount of milk supplied in 2016, providing 2 million servings to Pennsylvanians facing hunger," added Smith.
The 2016 campaign launches today with more than $150,000 raised. The eight member food banks of Feeding Pennsylvania participating are Central Pennsylvania Food Bank, Westmoreland County Food Bank, H & J Weinberg Northeast Pennsylvania Regional Food Bank, Philabundance, Greater Pittsburgh Community Food Bank, Community Food Warehouse of Mercer County, Second Harvest Food Bank of the Lehigh Valley and Northeast Pennsylvania, and Second Harvest Food Bank of Northwest Pennsylvania.
"There are more than 500,000 children at risk for hunger in Pennsylvania which equates to filling Penn State's Beaver Stadium approximately five times. Clearly, the need for this program is tremendous," Smith said. "We are proud to partner with Feeding Pennsylvania to make sure no one in Pennsylvania is denied fresh milk."
"Feeding Pennsylvania and our member food banks are grateful for the PA Dairymen and Mid-Atlantic Dairy for their support and leadership in guiding us through creating Pennsylvania's first statewide charitable fresh milk program," said Kris Douglas, board chairman of Feeding Pennsylvania. "It is because of their commitment and the support of our generous sponsors that we have been able to create this partnership with Pennsylvania's dairy industry to provide fresh milk to families and individuals whom we serve who need it most."
"With the 100th Pennsylvania Farm Show officially kicking off in less than a day, I'm excited to join the Dairymen's Association for the unveiling of their centennial milkshake flavor to commemorate this event," said Agriculture Secretary Russell Redding. "Our hope is that this show helps even more residents connect with all that agriculture has to offer and to recognize each of the roles we play in caring for our communities. Today, one out of every seven Pennsylvanians is at risk of hunger and may not know where their next meal is coming from.  I salute the Dairymen and Feeding Pennsylvania, for working together to bring fresh, nutritious milk to our residents."
According to the USDA, in 2012, more than 1.82 million individuals in Pennsylvania were at risk of hunger. This figure includes more than 562,000 children, or one of every five children in the Commonwealth. Feeding Pennsylvania's network of statewide food banks provides food assistance to more than two million low-income men, women and children.
Smith and Douglas encouraged individuals, businesses and foundations to support the campaign. Each $1 donation provides eight servings of milk. Sponsors of the 2016 statewide #FillaGlasswithHope campaign include:
Josiah W. and Bessie H. Kline Foundation Inc.
Weis Markets
GIANT Food Stores
Norfolk Southern Foundation
Pennsylvania State Education Association
Community Foundation of Western PA & Eastern Ohio
The Dunkin' Donuts and Baskin-Robbins Community Foundation
First Frontier Circuit Finals Rodeo
Kinder Morgan
Pennsylvania Dairymen's Association
PNC Mezzanine Capital
Valley Grange #1360
Wegmans
Wells Fargo
Land O' Lakes
Chuck's Auction Service
The Britton Family Foundation
Pennsylvania Farm Bureau
PSECU
AgChoice Farm Credit
Seneca Resources
C.A. Curtze Food Service Company
Fulton Financial Corporation
PennAg Industries Association
Modjeski and Masters
Crystal Lakes Development
Discover Lehigh Valley
Giant Eagle Supermarket
Meadowbrook Dairy
Standard Bank Global
Tri-County Rural Electric Cooperative
Renal and Electrolyte Associates
To donate, visit www.feedingpa.org/milk.
About PA Dairymen's Association and Valley Grange #1360:
PA Dairymen's Association was originally formed as the Crawford County Dairy Association in 1871. Within 17 years, the county group had become a statewide organization with a focus on supporting Pennsylvania dairy farms. In 1954, the Association joined together with the Valley Grange #1360 from Lewisberry, Pa. to serve hand-dipped milkshakes at the PA Farm Show. More than 60 years later, the Association now serves 140,000 of vanilla, chocolate and mixed milkshakes each year!
The Dairymen rely on the annual PA Farm Show to fund their activities. The Association has surpassed the $1 million mark in funding to dairy youth-development and education programs — securing a bright future for the Pennsylvania dairy industry. Products they sell include: milkshakes, milk/chocolate milk, ice cream sundaes, ice cream cones, deep-fried mozzarella cubes with marinara sauce and toasted-cheese sandwiches.
About Feeding PA:
Feeding Pennsylvania is a partnership formed among Pennsylvania's Feeding America member food banks. Our collective effort promotes and aids our members in securing food and other resources to reduce hunger and food insecurity for their communities and across Pennsylvania, and provides a shared voice on the issues of hunger and food access within the Commonwealth of Pennsylvania. Our member food banks serve more than 2 million people annually by distributing more than 110 million pounds of food throughout Pennsylvania to more than 2,400 agencies. In 2012, our collective workforce included more than 375 employees, who hosted more than 48,000 volunteers and facilitated more than 325,000 volunteer hours. Through volunteer efforts and strong community relationships, we spread awareness of food insecurity and hunger in our state.
About Mid-Atlantic Dairy Association:
Mid-Atlantic Dairy Association is one of 19 state and regional milk product promotion organizations working under the umbrella of United Dairy Industry Association, a federation of state and regional dairy promotion organizations. We are the local affiliate of National Dairy Council®, which has been conducting nutrition education and nutrition research programs since 1915. Mid-Atlantic Dairy Association and Pennsylvania Dairy Promotion Program are the local planning and management organizations funded by dairy farmer checkoff dollars to build demand for and sales of milk products and dairy foods throughout the region.  Supported by 7,200 dairy farmers in Pennsylvania, Maryland, Delaware, southern New Jersey and northern Virginia, they work closely with Dairy Management Inc.™, to bring a fully integrated promotion program to the Mid-Atlantic region.