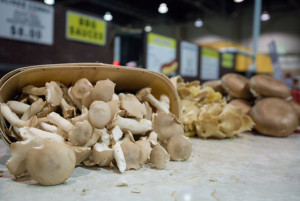 HARRISBURG, PA — Members of the media are cordially invited to attend a preview tasting event with two favorite PA Farm Show Food Court vendors to sample the delicious variety of new menu items for sale at their booths during this year's 100th PA Farm Show. The "Centennial Farm Show Tasting Event" takes place at 12:15 p.m. on Thursday, January 7, 2016, just after the butter sculpture unveiling ceremony. The PA Farm Show Food Court opens to the public on Friday, January 8 at Noon, with free parking. The Farm Show officially begins on Saturday, January 9 and runs through January 16 at the Pennsylvania Farm Show Complex and Weis Expo Center.
WHO: Gale Ferranto, president, Buona Foods, and member, Mushroom Farmers of PA; Dave Santucci, regional sales manager, Country Fresh Mushrooms and representing members of Mushroom Farmers of PA; Mindy Fleetwood, assistant vice president, PennAg Industries Association; Amy Bradford, executive director, PA Pork Producers Council; and, Secretary Russell Redding, PA Dept. of Agriculture.
WHAT: "Centennial Farm Show Tasting Event" – Preview & Sample New Menu Items
WHEN: 12:15 p.m. Thursday, January 7, 2016
WHERE: Food Court, Weis Exposition Hall, Pennsylvania Farm Show and Expo Center, 2300 N. Cameron Street, Harrisburg, PA 17110
New Featured Menu Items:
Mushroom Farmers of PA – The trend is to Blend. MFPA will present The Blend, a delicious, nutritious combination of beef and finely diced mushrooms that consumers can serve in hamburgers, tacos, chili, soups, salads and more. "The Blend" is a simple cooking technique that takes traditional recipes to the next level in terms of health and taste. Finely chopping mushrooms so that they're the consistency of ground meat, combining the two and using them together to complete classic recipes is a simple way to make meals that are healthier and taste great. They'll also offer a fresh mushroom salad and their world-famous deep-fried mushrooms and marinated portabella mushroom burgers.
PennAg Industries Association – New to the 2016 PennAg Food Booth lineup are Fish Nachos with a choice of seasoned trout or tilapia on a warm, light corn tortilla atop a bed of crisp nacho chips. The flavor is then taken to the next level of yum with the delicious extras: fresh pico de gallo, fresh shredded slaw, pickled onions and topped off with light and tasty lime crema.
The Fish Slider Combo is another new, healthy option for the 2016 Farm Show. Can't choose between the delicious baked trout sandwich or spicy tortilla-crusted tilapia sandwich? Now you don't have to. The fish slider combo, served on Pennsylvania's own Martin's potato roll, gives you a generous tasting of both in this power duo.
Again on the menu will be PennAg's popular pulled-pork barbecue from Hatfield and Leidy's. Pulled-pork BBQ lovers will be asked again "What's Your BBQ Style?" with great new sauce options — PennAg's own PA Farm Show BBQ Sauces in two distinct and delicious flavors:
The Original is an old school, traditional sauce with hints of brown sugar and seasonings to add a sweet tang to your Pork BBQ Sandwich.
Looking for traditional flavor with a little kick?  You'll get the best of both worlds with the PennAg PA Farm Show Spicy sauce which takes tradition to the next level with just the right amount of jalapeno peppers.
And Mike Dawg's Sauce also in two amazing flavors will be sold at the PennAg food booth:
Chock full of hickory-smoked bacon, onions, garlic, sweet peppers and spices. This sauce is great on so many things. If you are a bacon lover, this is the sauce for you!
Loaded with sweet peppers, onions and garlic, this sauce starts off slightly sweet before it hits you with its mild, smoky finish.
(Note: PennAg also will unveil details of their Bar-B-Que Sauce contest – What's Your BBQ Style?)
PA Pork Producers Council – Grab the newest twist to bacon offered at the PennAg Food Booth. How much do you love bacon? A lot? Us too. How much do you love chocolate? Another favorite? Yes, us too. Well, just imagine how delicious your two favorites will taste when combined into one incredible treat! Savor this delicious, thick-cut piece of bacon satisfyingly coated with a generous layer of milk chocolate. It's what the PA Farm Show is all about.