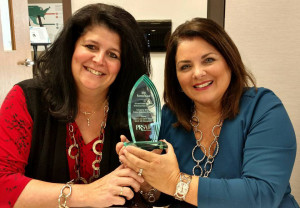 The Central PA Chapter of the Public Relations Society of America today honored Lucy Gnazzo, president of LM Gnazzo Promotion Strategies, and Nell McCormack Abom, president of Nell McCormack Abom Communications, with the Keystone Award for Best Overall Public Relations Program for their representation of the 2015 Red Land Little League U.S. World Series Champions. A panel of public relations professionals in New Mexico judged the competition for the Central PA Chapter.
Red Land Little League selected Gnazzo and Abom to represent the League and champions shortly after the boys won the 2015 U.S. Little League World Series title on August 29, 2015 in Williamsport, Pa. Over the course of a year, the champs made approximately 100 personal appearances, including serving as grand marshals for several regional holiday parades and Philadelphia's Thanksgiving Day Parade; headlining numerous community events; being recognized by government officials at the U.S. and Pennsylvania Capitols; joining The Zac Brand Band in Hershey, and serving as honorees at major and minor league, collegiate, and high school sporting events such as the Baltimore Orioles and Penn State Football games, and offering support to the Camp Hill Challengers Baseball team, Big Brothers Big Sisters of the Capital Region, and other charitable events. The champs also raised more than $31,000 for cancer-related causes, including support for children being treated at Penn State Hershey Children's Hospital. The boys and coaches were recognized for their charitable work for Four Diamonds at Penn State University's THON, the largest student-run philanthropy in the world.
"We are incredibly proud to represent the Red Land champions and assist with their journey to 'give back' and most importantly promote their passion for helping children facing cancer," Gnazzo said. "We humbly accept this PRSA award on their behalf and in honor of the many children in Pennsylvania and around the world who are courageously battling this disease."
"The Red Land boys inspired us with their championship victory. We hope their #WhyNotUs spirit leads other kids to make the world a better place," Abom added.
In addition, Gnazzo and Abom spearheaded publicity for the launch of the "Against The Odds" movie project inspired by a true story, and managed the exciting national book launch for "Boys in the Field: A Championship Journey from Red Land to Williamsport," with both projects focusing on the U.S. Champions' unforgettable achievements.
Both Gnazzo and Abom are successful business owners representing diverse non-profit and corporate clients.  They specialize in public and media relations, strategic communications, event planning, media training, television production, and social media messaging. Both have played key roles in advising Governors and First Ladies.  Other awards for their work include Gnazzo's recent Lifetime Achievement Award by the Conference for Women: Be Extraordinary!, and Abom's Mid-Atlantic Regional Emmy Award as well as membership in the 2016 National Security Seminar at the U.S. Army War College.
Since 2013, Gnazzo and Abom have collaborated on several PR campaigns, including an award-winning fresh milk program for the needy, "Fill A Glass With Hope™," for the Central Pennsylvania Food Bank and the PA Dairymen's Association. They have been friends for more than three decades and served together as senior advisors to Pennsylvania Governor Tom and First Lady Michele Ridge, often partnering on state and national projects such as the Inaugurals; the National Governors' Association (NGA) Conference; the Commonwealth's first-ever Safe Schools Summit; crime prevention, literacy, and family health media campaigns; trade missions; state dignitary visits; and more.
To learn about their companies, visit www.gnazzopromotions.com, www.nellmccormackabom.com, or follow them on Facebook at LM Gnazzo Promotion Strategies and Nell Abom, and on Twitter @GnazzoPromotion @nabom.