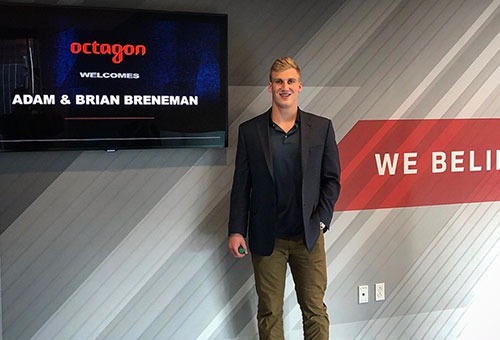 NFL Prospect, All-American, Award-Winning Athlete, Philanthropist And One of America's Top Tight Ends Adam Breneman Has Signed With NFLPA Certified Agent Casey Muir of Octagon.
Adam Breneman, a 22-year-old Class of 2018 NFL prospect and University of Massachusetts All-American tight end, as well as Pennsylvania State University graduate and Nittany Lion letterman, is one of the most coveted collegiate tight ends in the country. Breneman has been accumulating top football accolades and honors for years, with his impressive comeback chronicled throughout the nation. He finished his two-year UMass career as a two-time All-American and the all-time leader in receiving by a tight end in school history. Prior to Breneman's accomplished football career at UMass, he was a proud member of the Penn State football team, where he still holds the record for the longest touchdown by a tight end in Penn State history.
Breneman will now be training for the Senior Bowl and the NFL Combine at Spooky Nook Sports in Lancaster, PA with renowned trainer Jim Launer. He is represented by Octagon, where other clients include two-time NBA MVP Stephen Curry, the most decorated Olympian of all-time, Michael Phelps, Pro Football Hall of Famer Emmitt Smith, NASCAR icon Jimmie Johnson and Super Bowl-winning Head Coach and CBS NFL Analyst Bill Cowher, among many others.
"Over the years, I've had such amazing support from everyone in Central PA, especially my family, friends and Cedar Cliff community, as well as Penn State and UMass fans, and for that I am extremely grateful," said Adam Breneman.
"I am thrilled to begin the next chapter of my football journey and am excited to be represented by Octagon, one of the best agencies in the world. I'm looking forward to working with Jim Launer, an incredible trainer who will help get me ready for the Senior Bowl and NFL Combine. Additionally, I am eager to continue my community work and share my journey through speaking engagements, appearances and charitable partnerships, in hopes of inspiring others. I'm proud to partner with my friend Lucy Gnazzo to assist me with that in the Central PA region," he added.
To book Adam for regional appearances or to inquire about regional business/marketing opportunities, click here for more information.
For PA Media & Speaking requests: Lucy M. Gnazzo, 717-979-0692, Lucy@gnazzopromotions.com.
Follow Adam on social media: Twitter @AdamBreneman81, Instagram @adambreneman, Facebook.com/ab81ab
For more information on Octagon, visit www.octagon.com or follow on Twitter, Facebook and Instagram: @octagon.
Adam will be represented by Casey Muir, Director of Client Management. Twitter/Instagram: @Casey_Muir1
For national & Octagon Media Requests: Alyssa Romano, 212-308-1207, Alyssa.Romano@octagon.com.