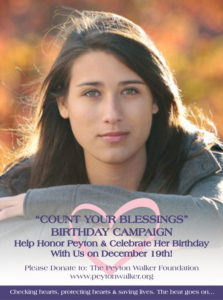 Public invited to help honor Peyton Walker and join the celebration of her birthday on December 19th by donating and giving the gift of life during the holiday season.
The Peyton Walker Foundation is leading the charge in checking hearts, protecting hearts and saving lives throughout Central Pennsylvania by educating on the dangers of Sudden Cardiac Arrest (SCA) in  youth and student athletes to ensure that THE BEAT GOES ON!
This holiday season, AND in honor of what would be Peyton Walker's 24th birthday on December 19th, the PEYTON WALKER FOUNDATION is asking for donations and the public's participation to join the celebration, while helping to save young precious lives, such as that of Peyton's.
"As many families prepare to enjoy the holidays and think about end-of-year giving to meaningful lifesaving work being done throughout our region, we are hopeful that individuals across Central Pennsylvania might consider helping us celebrate Peyton's birthday," said Julie Walker, Foundation Director and Peyton's Mom.  "By giving the gift of life through a donation to our Foundation, you will be honoring Peyton's dream of helping others, as she did through her work in the medical field, prior to her passing."
"Peyton would be extremely proud to see the impact we are having through our heart screenings, CPR trainings and AED donations, which are helping to detect and prevent Sudden Cardiac Arrest (SCA) in youth and student athletes. We've been blessed to collaborate with the PIAA District III, and other valuable healthcare partners such as UPMC Pinnacle Health, Penn State Hershey Medical Center, and WellSpan Health. Thanks to generous donations and our special fundraising events, throughout the year, we've been able to provide AEDs or Automated External Defibrillators to non-profits and schools, identify kids who are having potentially significant heart conditions that were previously undiagnosed through free electrocardiograms (EKGs) through our free screenings at area schools, and offer free valuable CPR and AED trainings. This was all work Peyton was learning about as a Physician Assistant student before her sudden and unexpected death," she added.
Peyton Walker was a 19-year-old Mechanicsburg native, 2012 Trinity High School graduate, and a sophomore in college who was pursuing a career as a Physicians Assistant at Kings College in Wilkes-Barre, Pennsylvania, when she suffered a Sudden Cardiac Arrest (SCA) that took her young and vibrant life on November 2, 2013. Afterwards, her family started researching Sudden Cardiac Arrest, and found that kids are dying every day from heart issues that are NOT  diagnosed.  The PEYTON WALKER FOUNDATION was established in honor of Peyton's memory and her dreams of a medical profession to help and care for others.
Some Sobering Facts About Sudden Cardiac Arrest:
SCA is the #1 killer of student athletes in the United States
Every three days, a student dies from SCA in the U.S.
SCA is one of the leading causes of death in the United States (over 600,000 annually)
SCA is the #2 medial cause of death in youth under 25
SCA is the leading cause of death on school campuses.
Up to 95% of SCA victims die because there was a delay in emergency response.
A routine heart screening is NOT part of a sports physical, and many heart issues can be detected through a simple ECG/EKG.
Use of AEDs and CPR increase the chances of surviving an SCA event.
Some warning symptoms of SCA include (dizziness, fainting, shortness of breath, chest pain)
The first symptom of SCA is often sudden death.
Sudden Cardiac Arrest (SCA) is not​ a heart attack – it's the sudden onset of an abnormal and potentially fatal heart rhythm that causes the heart to beat ineffectively or not at all.
"With one phone call, our life as we knew it was forever changed when we lost our beautiful daughter Peyton from a deadly heart issue" said Peyton's mother Julie, in discussing the call that every parent dreads.  "Peyton's young life was abruptly cut short due to a Sudden Cardiac Arrest (SCA) incident related to a genetic heart condition called Hypertrophic Cardiomyopathy.  She was taken from us far too soon, but left an imprint on this world and a legacy that won't soon be forgotten."
"EKGs can detect underlying electrical issues in the heart – issues that lead to SCA and sudden death.  And so the Peyton Walker Foundation was born," she added. "The good news is that parents, schools and communities can be PROACTIVE in reducing and even eliminating SCA in our youth."
The Foundation is urging parents to request that their physicians administer EKGs during their child's annual exam or visit their website at www.PeytonWalker.org to find a FREE screening in their area.  Donations to the Foundation are also being asked for to fund FREE community heart screening clinics for students in South Central PA, provide lifesaving FREE AEDs within local communities, and help underwrite FREE certified CPR and AED training classes to school districts and non-profits throughout the region. Tax-deductible investments will fund all of this.
Did You Know investments at all levels SAVE young, active lives? Here's how:
A $25 donation enables the Foundation to screen ONE HEART.
A $500 donation allows the Foundation to provide a community AED/CPR Certification training class.
A $1,100 donation pays for ONE Automated External Defibrillator (AED) for a nonprofit, sporting venue or school.
The Foundation holds FREE HEART SCREENING CLINICS for students ages 12-19 in the Central PA area. To date, they are proud to have screened nearly 1,000 students leading to potential life-saving medical attention in several cases. The Foundation provides AED and CPR training to every STUDENT who attends their heart screenings allowing students and their families a chance to perform hands-on CPR and gain a better understanding of what an AED is and how to use it. The Foundation provides FREE CPR and AED Training.  Over 100 attendees from the region have been certified through their training process.
Julie added, "On behalf of Peyton's family, friends and Foundation leaders, please help us honor Peyton during this holiday season and the month of her birthday by donating TODAY to shine a bright light on this life-threatening condition that steals our youth and can forever change a family, if left undetected. Together, we are SAVING LIVES!"
For more information on Sudden Cardiac Arrest in youth, how you can donate or to find a FREE heart screening, please visit www.PeytonWalker.org.