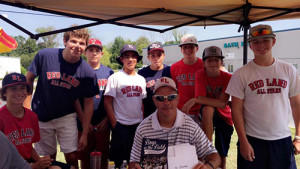 It's not just a book about baseball, it's a book about childhood and the innocence that accompanies it
"There is something intrinsically uplifting about being able to support a team whose players still believe in Santa Claus, and liked to be tucked in at night. " excerpt from Boys in the Field
By David Scott Slayton
Assisted by Jeanette Slayton and Nancy Zimmerman
(August 15, 2016) ETTERS, PA — As the country once again is turning its undivided attention to the Little League World Series, one of summer's most anticipated world-wide sporting events, new author David Scott Slayton has captured the exhilarating behind-the-scenes journey to Williamsport by the 2015 United States Little League Champions from Red Land in his newly released book, Boys in the Field.
Boys in the Field shares a story of thirteen kids who dared to chase a dream and the men who guided them each step of the way. They came together, worked hard and aspired together, and together, in the summer of 2015, they formed a team that captured the hearts and imaginations of people everywhere. Through sacrifice, struggle, and the building of relationships between fathers who had to harden their sons, and mothers who had to comfort them, this group of individuals became unified to one purpose. As a result, boys became friends, friends became teammates, and working together, they became champions.
Author Scott Slayton reflects when he says, "Last summer, I, like so many others from our area and around the country, got completely caught up in the spirit of that team from Red Land.  As I sat with my family on second high hill that looks down on Lamade Stadium in Williamsport and watched our eventual National Champions, I was surrounded by thousands of other people from my community and beyond who felt the same magic that I did.  They were people who fell in love with these kids not because they simply won games, but by the way they conducted themselves while they won them.  I saw the Goodyear Blimp, the American flag, and my children with their faces painted with USA on one cheek, and Red Land on the other.  What was so incredible was that we weren't there to cheer for men whom we would never meet.  We were supporting kids who sat in our classrooms, who went to the same school my own children did, who were led by men we saw on a daily basis.  The passion and joy in that crowd was palpable, and I thought to myself, this is extraordinarily special.  I wanted this book to capture that spirit."
"My goal in writing Boys in the Field is to leave a lasting and well-deserved tribute to our champions while offering fans a glimpse of this special story from the perspective of those who lived it— the boys, the coaches and their families. I wanted to capture their uninhibited enthusiasm, innocence, friendships, and the relentless perseverance that led to this unprecedented magical journey. It has been truly rewarding to witness the significant impact this unique experience has had not only on the boys and men from the team, and on this community, but the Commonwealth and even beyond," he added.
Red Land Little League went 20-0 in winning the 2015 U.S. Little League World Series title. The 13-member Mid-Atlantic Region team from Lewisberry, PA captured the U.S. title on August 29, 2015, in South Williamsport, PA, defeating the Southwest Region Team of Pearland, Texas, 3-2. The York County team had only one loss in the World Series, and that was to Japan, 18-11, in the championship game.  Red Land shattered all attendance records for the Little League World Series with a sea of red overtaking the stands to watch the on-field heroics. Over the past year, Red Land players and coaches embarked upon a goodwill tour of appearances and in supporting several charities, including Four Diamonds at Penn State Hershey Children's Hospital, for which they raised over $31,000.
Red Land Championship Team Manager Tom Peifer said, "We are humbled by Scott's dedication to this literary project in chronicling the team's wonderful accomplishments for all to enjoy. This past year has been truly remarkable, and thanks to Scott, everyone who followed the boys once again can experience this special journey."
As the new U.S. LLWS champions are in the process of being chosen, Slayton stated, "We will be eternally proud of our Red Land Champs' memorable achievements and sportsmanship exhibited on the baseball diamond in Williamsport.  Most importantly, we are proud of the ambassadors and role models they have become, championing causes much greater than their own.  They have displayed a maturity beyond their years, a dignity and grace beyond their experiences, and a positive impact on so many far beyond their understanding."
Author David Scott Slayton, has lived in the Red Land community for all of his adult life.  After graduating from Virginia Polytechnic Institute and State University (Virginia Tech), he became an Instructor of English at Red Land High School in 1998 and has been there ever since. Whether referred to as Mr. Slayton, Coach Slayton, or Coach Scott, he has worked with Red Land kids of all ages, both in the classroom and on the fields of competition.  From Varsity to Elementary, PIAA State Playoffs and a District Championship, to Summer Camps and Tee-Ball, Scott has committed himself to helping Red Land kids excel both academically and athletically.  His fondness for the Red Land community is matched only by his love for baseball, specifically the New York Mets, the United States of America, and the spirit of children. Together, he and his wife of 15 years, Kelly, have built their own "team" that provides each of them with their greatest joys in life. 
For more information on Boys in the Field, please connect with us on Facebook and Twitter @BoysInTheField or by email at boysinthefield@icloud.com.
Boys in the Field will be available nationally on September 15, but in Central Pennsylvania starting today at Formex in Camp Hill and on August 20 at Brusters Ice Cream in Etters.  Online purchases can be made after September 15 through booksellers such as Amazon and Barnes and Noble, and also available through Nook, Google and Apple via eBooks.  A portion of the book's profits will be donated to the Four Diamonds Fund and the Red Land Little League "Field of Dreams" in honor of the "Boys in the Field."  A special Boys in the Field Book Launch Celebration is planned for Saturday, August 20 from 1 p.m. to 4 p.m. at Brusters Ice Cream, located at 560 Financial Way, Etters, PA. Slayton will be available to sign books, which will be available for a special pre-release price.
REVIEW COPIES AVAILABLE UPON INDIVIDUAL REQUEST
Paperback ISBN:  978-1-945169-02-1
eBook ISBN:  978-1-945169-03-8