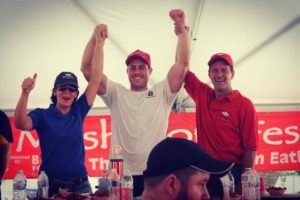 (Kennett Square, Pennsylvania) —  Buona Foods is once again the proud sponsor of the National Fried Mushroom Eating Championship and will supply the delicious Pennsylvania mushrooms for the only competition of its kind featuring professional and amateur contestants from across the country. For the sixth year, Buona Foods' original fried mushrooms will again be the Festival's signature championship competition. With over 100,000 guests visiting the Kennett Square Mushroom Festival, The National Fried Mushroom Eating Championship has become the most visited event during the weekend. Buona Foods prides itself in its three generations of family commitment to farming fresh mushrooms.
"We are thrilled to once again host this high energy competition featuring our mighty mushroom," says Gale Ferranto, President of Buona Foods. "Buona Foods' original breaded fried mushrooms are a Mushroom Festival favorite every year! Watching competitors eat unlimited amounts of our golden fried, mouth watering mushroom goodness during the National Fried Mushroom Eating Championship is exciting for the young and the young at heart. It's truly memorable family fun for all ages!"
Competitive eating pros and aspiring amateurs will compete in the popular contest for all to enjoy. Some early contestants include:
PROFESSIONAL CONTESTANTS:
Bob "Notorious BOB" Shoudt – 2017 Wing Bowl Champion
Dave "Tiger Wings and Things" Brunelli – 2nd Place, 2017 Wing Bowl
Pittsburgh Paulie – 2017 Wing Bowl's Villain
Dan "Killer" Kennedy – Films YouTube Eating Challenges, winner of numerous challenges and contests
Stephen "Barracuda" Hillegas – Winner of numerous contests
Brandon "Da Garbage Disposal" Clark – YouTube Food Challenger and winner of many contests
This year at the 32nd Annual Mushroom Festival, professional and amateur contestants are competing to beat the World Record of eating more than 11.5 pounds of fried mushrooms in just 8 minutes! Amateur contestants living within 15 miles of Kennett Square are also invited to challenge last year's new local record of 3.5 pounds set by John "Tank" McDowell.
MUSHROOM EATING CONTEST PRIZES:
Overall Champion (Only Professional Contestants)
1st Place: $1000
2nd Place: $500
3rd Place: $300
Local Champion (Only Amateur Contestants – Within 15 mile radius of Kennett Square)
1st Place: $200
Runner-Up: $100
ADDITIONAL MUSHROOM FESTIVAL ENTERTAINMENT: This year's contest will also feature the high-energy emcee, Kennett Square's own Monty "Moe Train" Wiradilaga. Wiradilaga, a competitive eater and show host, is a former amateur National Fried Mushroom Eating Champion.  Wiradilaga has also hosted Moe Train Eats, a television show based on his experiences in food, drink, travel, and life.  The first episodes titled Moe Train Eats: Kennett Square, highlighted Kennett Square's finest restaurants, breweries, and businesses, all part of the "best small towns in America."
WHEN & WHERE: Contest begins at 3 p.m. on Saturday, September 9, 2017, at the Special Events Tent in Kennett Square, Pennsylvania.
MUSHROOM FESTIVAL SCHEDULE & INFORMATION:  Friday, September 8: Community Parade with Dining and Dancing in the Streets. Saturday, September 9: 10 a.m. to 7 p.m.  Sunday, September 10: 10 a.m. to 5 p.m. Admission is $3 for everyone 12 and up. The Kennett Square Mushroom Festival spans more than a mile and features culinary events, growing exhibits, many contests, children's entertainment, and nearly 250 vendors. All proceeds benefit local and regional non-profit organizations through the Mushroom Festival Grant program, with last year's contributions totaling over $80,000.  More information about the Festival is available at www.mushroomfestival.org.
ABOUT BUONA FOODS: Buona Foods produces and ships a variety of fresh mushrooms, including white and brown mushrooms, portabellas, shiitake, oyster, maitake and other specialty varieties. They merge the traditions that have made them great with advanced farming practices to bring the best mushroom products to families today. At the Festival, Buona Foods will offer its hugely popular NEW food item, "The Blue Ribbon Blended Burger," a juicy and delicious combination of beef and mushrooms served with bacon and all the fixings at its Mushroom Festival Food Booth near the entrance of Apple Alley.  Visit www.buonafoods.com.
PENNSYLVANIA MUSHROOM FACTS: Kennett Square, Pennsylvania has long been known as "The Mushroom Capital of the World," with more mushroom growing operations concentrated in the Southern Chester County area than any other area in the United States. More than 65 percent of the mushrooms consumed in the United States are grown in Kennett Square! Mushroom agriculture has been producing mushrooms in the Commonwealth for more than 120 years. In 2015, the 68 mushroom farms in the state produced 63 percent of all U.S. white mushrooms, valued at $554.4 million. That's a lot of mushrooms!