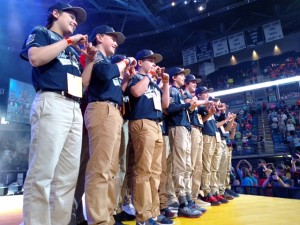 LEWISBERRY, PA – The Red Land Little League 2015 Little League World Series U.S. Championship Team will appear on the main stage during THON at the Bryce Jordan Center at Penn State University on Saturday, February 20 from 9:10-9:20 a.m. THON, a 46-hour dance marathon, is billed as the largest student-run philanthropy in the world.
WHO: Red Land Little League 2015 U.S. Little League World Series Champions, coaches and families; Penn State THON leaders, performers and student-dancers; Four Diamonds' children and their families.
WHEN: Saturday, February 20, beginning at approximately 9:10 a.m.
WHERE: Main Stage, Bryce Jordan Center, PSU, University Park, PA 16802
DETAILS: THON will recognize the RLLL Championship Team for their victory and their fundraising leadership for Four Diamonds. Team Manager Tom Peifer and Champion Pitcher and Hitter Cole Wagner will each deliver brief remarks. The team will be available for media interviews upon exiting the stage. The champs also will meet with Four Diamonds' leadership, medical staff and Four Diamonds' families.
NOTE: You can watch the live webcast of THON all weekend. Students from the Penn State College of Communications will be in the Bryce Jordan Center conducting the webcast to bring THON to viewers around the world. The webcast will be available at thon.org.
To rally the boys for THON, Flinchy's, 1833 Hummel Avenue, Camp Hill, PA, will donate 10% of the proceeds from food sales all day on Thursday, February 18, and will silent auction one of the team's signed LLWS Championship bats. Flinchy's is open 11 a.m. – 2 a.m. Visit www.flinchys.com.
PSU students host THON each year to raise money to support Four Diamonds' programs that assist pediatric-cancer patients undergoing treatment at Penn State Hershey Children's Hospital. Last year's event raised more than $13 million for childhood-cancer patients and their families. Penn State Dance Marathon began in 1973, and partnered with Four Diamonds in 1977. Since 1977, THON has raised more than $127 million for the Four Diamonds.
During the LLWS, the RLLL boys selected Four Diamonds as their charitable cause. To date, the champs have raised more than $28,200 for pediatric cancer on behalf of Four Diamonds and Vs. Cancer Foundation. That amount includes a significant contribution from Red Land Little League and a portion of proceeds from the sale of team merchandise at www.redlandlittleleaguestore.com.
In addition, the players and coaches have met with pediatric-cancer patients, their families and caregivers at Penn State Hershey; participated in community fundraising events like Hope 4 LN; auctioned team slugger Cole Wagner's 2015 Little League World Series Championship bat for the cause; held numerous private meetings with children and adults facing cancer; rallied support for THON leaders at PSU in the fall; donated championship tee shirts and autographed posters through the League to Four Diamonds' kids; and, the boys sent cards to children at Penn State Hershey over the holidays.
ABOUT RED LAND 2015 U.S. LITTLE LEAGUE WORLD SERIES CHAMPIONS (LLWS):
Red Land went 20-0 in winning this year's U.S. LLWS title. The 13-member Mid-Atlantic Region team from Lewisberry, PA captured the Little League U.S. title on August 29 in South Williamsport, PA, defeating the Southwest Region Team of Pearland, Texas, 3-2. This talented York County team had only one loss in the World Series, and that was to Japan, 18-11, in the world championship game. Red Land's players and coaches have launched a series of goodwill appearances as ambassadors for Little League Baseball and to raise funds to enable future generations of Red Land children to play Little League baseball.
Red Land contributed to breaking several records during the World Series. Red Land and Japan's combined 29 total runs shattered the 23-run record held since the first championship game in 1947. Another new record was set, the number of fans in attendance for a single-game on Saturday, August 29, when Red Land wowed a crowd of 45,716, beating Pearland, Texas for the U.S. LLWS title.
About the RLLL Team's Charity, Four Diamonds at Penn State Hershey Children's Hospital:
The Red Land Little League 2015 LLWS U.S. Champions strongly believe in giving back to the communities and fans who have supported them so well. The team's official charity, Four Diamonds at Penn State Hershey Medical Center, has a mission to conquer childhood cancer by assisting children treated at PSU Hershey and their families through superior care, comprehensive support, and innovative research. Because of the community's steady and generous support, Four Diamonds has been able to assist 100% of the childhood cancer patients who have been treated at Penn State Hershey.
For updates on Red Land's team, visit www.redlandlittleleague.com, or follow updates on Facebook/Red Land Little League. You can shop for team apparel and gear and donate to Red Land Little League at www.redlandlittleleaguestore.com.