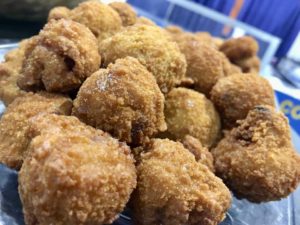 WHO: Pennsylvania Secretary of Agriculture Russell Redding; Pennsylvania Pork  Producers Council; PennAg Industries Association; Mushroom Farmers of Pennsylvania; Buona Foods; Pennsylvania Dairymen's Association.
WHEN & WHERE: Thursday, January 4, 2018 at 11:45 a.m., PennAg Food Booth in Pennsylvania Farm Show Complex Food Court, 2300 N Cameron St, Harrisburg, Pa.
WHAT: Media invited to sample the first taste of Pennsylvania Farm Show 2018 featuring:
Mushroom Farmers of Pennsylvania's #Blenditarian specials including the back-by-popular-demand juicy Blue Ribbon Mushroom Blended Burger with 30% mushrooms and 70% beef, topped with thick Pennsylvania Bacon and sizzling Grilled Portabellas finished with a special sauce and served on a famous Martin's Potato Roll along with lettuce, tomato, onion and cheese. Also returning are the crowd-favorite Original Breaded Mushrooms, steaming hot Mushroom Soup, and the vegetarian's delight, RoRo's homemade fresh Mushroom Salad. 
You're going to want to put some "Pork on Your Fork" this Farm Show! Do just that with the PennAg Industries Association's celebrated Mouth-Watering Slow-Roasted Pulled Pork Barbeque, served on a famous Martin's Potato Roll or with the premium Farm Show Loaded PA Pulled Pork Nachos, made-to-order includes Pennsylvania Pulled Pork, chili, cheese, and jalapenos piled on top of fresh nacho chips.  Don't forget the acclaimed delicious chocolate-covered Hatfield Bacon!
And top it off with a Pennsylvania Dairymen's Association 65thBirthday Legen-DAIRY delicious vanilla and chocolate shake.

NEW THIS YEAR!
PennAg's Dessert Delight: A 6-piece fresh-out-of-the-oven Chocolate Chip Cookie Bundle. Enjoy with an ice cold fresh dunk o'milk for 25 cents extra! But be careful – friends will want you to share!
40th Anniversary of the Mushroom Farmers of Pennsylvania's Unrivaled Golden Breaded Mushrooms.
Plus, a NEW #Blenditarian Bonanza Promotion! A blenditarian is one who believes that the mighty mushroom has meaty powers to make meals more delicious, nutritious, and sustainable. Pick up a Blended Burger from the mushroom booth, snap a photo, share it on Twitter and Instagram with the hashtag #BlenditarianPA for a chance to win a Mushroom Prize Pack!
Make room for mushroom Snapchat filters that will be available during the show!
Pennsylvania Dairymen's Association 65th Birthday of their shakes.
Fill A Glass With Hope® Benefit & PA Dairymen's Birthday Celebration Challenge during the Food Court Opening on 

January 5th

!
#Shakes4Hope18 social media contest will donate $1 to Fill A Glass With Hope® and a chance to win a FREE t-shirt for each milkshake photo uploaded and tagged.
ADDITIONAL DETAILS:
BUONA FOODS AND THE MUSHROOM FARMERS OF PENNSYLVANIA – Known as the "Mushroom Capital of the World," Pennsylvania mushroom farms have been growing mushrooms in the Commonwealth for more than 120 years. The 57 mushroom farms in the state produced 64 percent of all U.S. white mushrooms, valued at $559.9 million, last year.  PA mushroom farms are family-owned and operated, some for as many as four generations.
About the Blended Burger Project: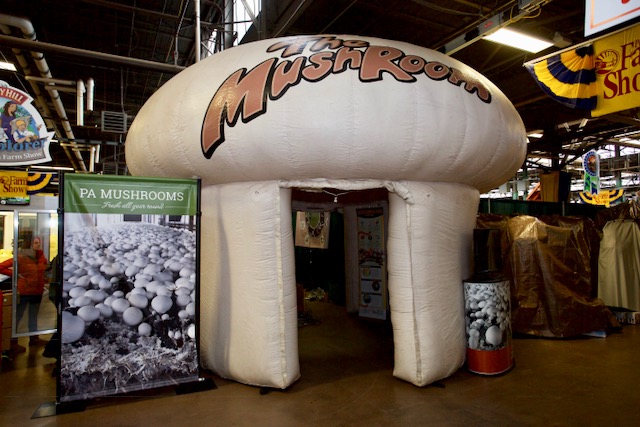 The Blended Burger Project is a movement in partnership with the James Beard Foundation to make burgers better by blending mushrooms with meat – creating a more delicious, nutritious, and sustainable burger. The third annual Blended Burger Project closed with 414 restaurants in 45 states and hundreds of thousands of consumer votes. The contest will return in spring of 2018 and will be better than ever!
Visit the Mush-Room:
Can you name a produce item in the supermarket that doesn't need sun to grow?  What item in the aisle is mistakenly called a vegetable? What is the only natural source of Vitamin D in the produce section?
Did you guess?  A mushroom!
Ever wonder how or where mushrooms are grown?  Be sure to go on a Mushroom Farm Tour right at the PA Farm Show,featuring a first-hand look at how one of Pennsylvania's top crops is grown. Pennsylvania produces more mushrooms than any other state in the U.S.A. Look for a giant Mush Room to start your tour!
This eye-opening mushroom-growing exhibit at the PA Farm Show highlights the growing process from raw materials to compost, from spawn to the delicious finished product. Visitors will walk through the display to see growing trays straight from a mushroom farm.  Mushroom growers will be on hand to discuss the various stages of white and brown mushroom production and the fascinating growing process of shiitake, oyster, maitake, and other specialty varieties.
If you think you know farming but have never been on a mushroom farm, you are in for a surprise and a treat! See the finished product in tills and trays for the Mushroom-Judging Contest and pick up some recipes and nutrition brochures so you can create some great mushroom dishes at home.
Look for the NEW Snapchat filter!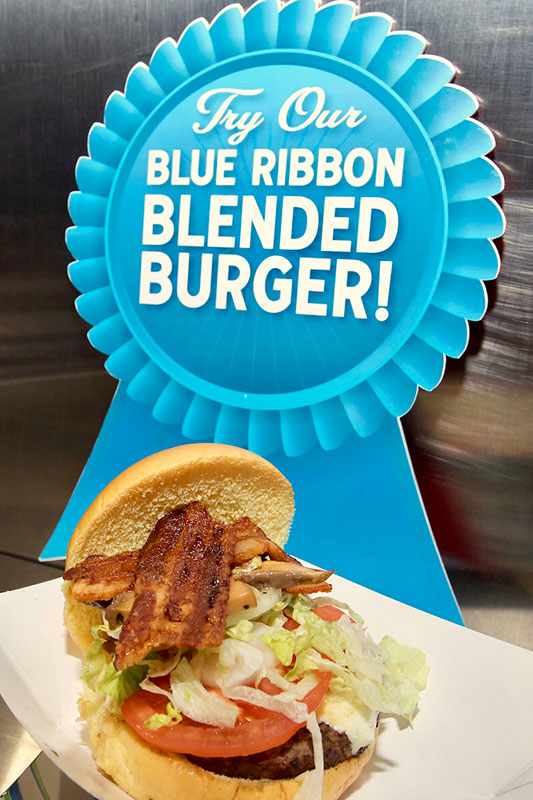 PENNAG INDUSTRIES AND THE PENNSYLVANIA PORK PRODUCERS COUNCIL
FOOD BOOTH: Along with those NEW delicious chocolate chip bundles, PennAg will offer a great variety of their top-selling delicious, poultry and fish choices, as well as hot, soft pretzels, and pretzel rolls filled with ham and cheese! For those looking for breakfast, stop by for a hot, oven fresh breakfast pretzel roll.  Options include: ham, egg and cheese; sausage, egg and cheese, egg and cheese.
The Pork Producers Council invite Farm Show attendees to visit the popular sow and litter at the Diversity on Display exhibit in Expo Hall. While there take a picture at the pig chair,  experience a 360 virtual tour of a farm and take the opportunity to #thankapigfarmer who is "Making' the Bacon."
PENNSYLVANIA DAIRYMEN'S ASSOCIATION 
FOOD BOOTH CELEBRATION AND FILL A GLASS WITH HOPE® CHALLENGE! The Dairymen will hold a 65th Birthday Bash for their legen-DAIRY vanilla and chocolate milkshakes from 1-3 p.m. on 

Friday, January 5

. The Voice's contestant Olivia Farabaugh sings and celebrity servers pour the shakes. Celebrities include Ag Sec. Russell Redding,  Mayor Eric Papenfuse, Miss Pennsylvania Katie Schreckengast, Dairy Royalty, Merlot Mike, media friends, business leaders, food bank representatives, and others. Geo W. Weaver and Son, Inc. Moving and Storage company will donate $1 for every shake sold, (up to $2,500) from 

1-3 p.m.

 to #FillaGlasswithHope – bringing fresh milk to neighbors in need. Also, joining the celebration will be PSECU, who will donate $1 for each shake sold , (up to $1,000) from 

1 – 2 p.m.

Milkshake-themed apparel to benefit Fill a Glass with Hope® only available online:"Milkshake Moolah" Gift Certificate $20.00 each (valid during 2018 PA Farm Show)
Adult Milkshake T-Shirts in various styles $17.99 (S – 2XL)
Youth Milkshake T-Shirts in various styles $15.99 (XS – XL)
Adult Embroidered Hat $14.99
Commemorative 65th Milkshake Birthday Cup $14.99
For each "Milkshake Moolah" Gift Certificate and custom-designed t-shirt purchased online, $1 will be donated to the Fill a Glass with Hope® campaign. During the Farm Show, milkshake fans can upload a picture of themselves and their shakes and hashtag #Shakes4Hope18 to PA Dairymen's Facebook page or post on Twitter or Instagram. Pennsylvania Dairymen's Association will then donate an additional $1 per post to Fill a Glass with Hope®. The t-shirts and gift certificates are only available at​ ​www.padairymens.co​m​/store until the end of the 2018 Pennsylvania Farm Show.​ The 2018 PA Farm Show kicks off with the Food Court opening on January 5 at Noon and runs through January 13 at the PA Farm Show Complex in Harrisburg, PA.
PENNAG'S POPULAR DUCK SLIDE AND CHICK HATCH DISPLAY TO ALSO BE FEATURED AGAIN!
Back and better than ever, PennAg is excited to have the duck slide and chick hatch display back at the Farm Show.  The display will now be located in the Exposition Hall at the Poultry Pod. Special thanks to Farmer Boy Ag for building both the duckling slide, chick incubators and layer housing.   Also, thank you to Purina for supplying the feed for the ducklings and chicks.
Duck Slide
Come visit the 10 ducklings that will make Farm Show their home.
This fun, Farm Show favorite is a tradition for many visitors.
The ducklings will enjoy the slide and "pond" throughout every day, all day during the Farm Show.
Special thanks to Joe Jurgielewicz & Sons Ltd. for providing the ducklings.
Chick Hatching Display
Each day of the Farm Show chicks will hatch in the incubator. 
There will be a special event on January 4th at 

1 p.m.

 to see the first eggs of the 102st Farm Show hatch.  During this, a donation will be made to the Central PA Food Bank. 
This exciting display will be a hit with people of all ages as they see baby chicks hatch and grow throughout the week.
Special thanks to Longenecker's Hatchery for providing the hatching eggs.
Layer Display
New for 2018.
This newly constructed display will show one of the many housing options for layers.
Showcasing the "enriched colony housing" system, you are sure to learn a thing or two about the delicious, nutritious egg that will surprise you.
Display Unveiling Press Event with Sec. Redding – January 4, 2018 @ 1:00 p.m., following "The Taste" event. 
PennAg Industries is excited to bring back #chickhatch2018!  Stop by the Poultry Pod in the Expo Hall where we will be showcasing the ever popular duckling slide, chick hatch and layer displays.
As we prepare to hatch the first eggs of the 102st PA Farm Show, we invite you to be a part of our #chickhatch2018.   We will be numbering the first set of eggs that will hatch and assign each to a local celebrity person or group of people. For the first egg that hatches, $1000.00 will be donated in that person's name to the Central PA Food Bank. We hope you will be a part of this exciting event!
1:00 p.m. – Welcome by PennAg Industries (Mindy Fleetwood)
1:05 p.m. – Comments by PA Department of Agriculture, Secretary Russell Redding
1:10 p.m. – Comments by Central PA Food Bank, Jennifer Powell
1:15 p.m. – Unveiling of Chick Hatch and Duckling Slide
1:20 p.m. – Reveal of #chickhatch2018, first egg to hatch of Farm Show, and check presentation to Central PA Food Bank
1:25 p.m. – Display open and PennAg available to take questions.