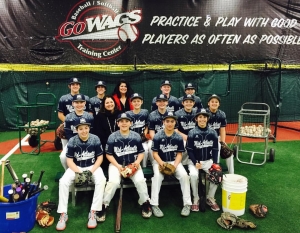 LEWISBERRY, PA – Red Land Little League Association has selected Lucy Gnazzo, founder, LM Gnazzo Promotion Strategies, and Nell McCormack Abom, president, Abom Communications, to provide public and media relations for the 2015 Red Land Little League World Series (LLWS) U.S. Championship Team. Red Land went 20-0 in winning this year's U.S. LLWS title. Red Land's players and coaches have launched a series of goodwill appearances as ambassadors for Little League baseball and the team's achievements on the diamond in Williamsport, PA.
"Red Land's exciting championship victory has put our League on the international map. We have dynamic plans to build on the legacy of this team with a major fundraising effort for 'a new field of dreams' for the next generation of Red Land baseball players," said Scott Sozanski, president of Red Land Little League Association. "We also have a keen desire to give back to the community that has embraced and supported us so well. Bret, Tom, JK, Scott and the team join me in looking forward to sharing our story to a much wider audience with the professional assistance of Lucy, Nell and LM Gnazzo Promotion Strategies."
LM Gnazzo Promotion Strategies, and partner Nell McCormack Abom Communications, will provide strategic communications, event planning, media relations and marketing efforts for Red Land Little League's U.S. World Series Championship Team. They will handle all future media inquiries and appearance requests by emailing gnazzo@msn.com.
"The spirit, determination, sportsmanship, talent and success of the Red Land Little League Champions are an inspiration to our country," noted Gnazzo. "Nell and I are proud and thrilled to help Red Land Little League's players, coaches and manager bring their uplifting message and charitable endeavors to Pennsylvania and a global audience."
Plans for funding a new baseball stadium in Lewisberry will be unveiled in the coming weeks. Recently, Red Land Little League combatted cancer by raising approximately $15,000 for Four Diamonds. Four Diamonds' mission is to conquer childhood cancer by assisting children treated at Penn State Hershey Children's Hospital and their families through superior care, comprehensive support, and innovative research.
With more than 30 years of government, public relations and media experience, Gnazzo and Abom have served as senior advisors and top-level communications aides to multiple Pennsylvania governors, and have consulted for a number of for-profit and non-profit organizations and companies. They specialize in public and media relations, strategic communications, event planning, media training, television production, and social media messaging.
To learn more, visit www.redlandlittleleague.com, www.gnazzopromotions.com, www.nellmccormackabom.com, or follow them on Facebook at LM Gnazzo Promotion Strategies and Nell Abom, or on Twitter @GnazzoPromotion @nabom.