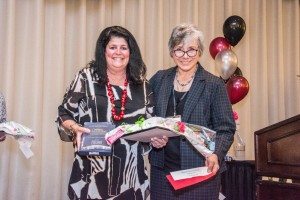 Gnazzo lauded for exemplary leadership and outstanding service to the community and state through her professional and charitable work spanning more than three decades.
CAMP HILL, Pa​. — Lucy M. Gnazzo of Camp Hill recently was honored with the Lifetime Achievement Award from The Conference for Women: Be Extraordinary! Gnazzo was one of seven exceptional and successful women in the Central Pennsylvania region to be nominated for the prestigious award.
"I am deeply honored and humbled to have been recognized by such an esteemed group of dedicated leaders and congratulate all nominees for their amazing contributions to our region," Gnazzo said. "I have been blessed to work with public and private sector influencers who work diligently to 'live and give' in their daily lives. From serving the Commonwealth of Pennsylvania and partnering with many of our state leaders, to working with so many outstanding non-profit organizations as well as successful businesses, together we shine the light on important causes and issues that build better communities."
The Lifetime Achievement Award recognizes an individual who has built long-term business success, with strong community involvement and is adaptable in the changing business environment. She is innovative in her business strategy and recognized as a business leader and role model. The ideal candidate possesses leadership excellence in the public and/or private sectors. She must have influence within her organization in terms of significant impact on revenues, profitability, and/or direction of the organization. She must demonstrate leadership and commitment to community well-being while holding the highest ethical standards.
Former PA First Lady Michele Ridge said, "I have seen so many examples of Lucy's unique and exemplary combination of strategic savvy, commitment always to community benefit,  media success, integrity, and inclusiveness.  Her strengths and talents are extraordinary and universally employed on behalf of others.  Lucy finds the positive and inspiring message that moves people to act  in their community's best interest.  She has worked in so many ways to model the type of leadership and vision that make our communities better. "
Past Lifetime Achievement Award Recipient and PSECU Public Relations Director Margaret Delmonico applauded Gnazzo saying, "Lucy Gnazzo's recognition with the Lifetime Achievement Award is so very well deserved and a high acknowledgement considering the group of wonderful women who were nominated.  Lucy has achieved much in her life for the greater good and knowing her, she will not be stopping any time soon.  Any organization she associates with is blessed to have her knowledge, skills, dedication and passion."
"Lucy Gnazzo is an exceptional business leader in our community who demonstrates not only strong community involvement, but long-term business success through her innovative leadership.   She is a huge asset and role model to the Central Pennsylvania community.  Congratulations, Lucy Gnazzo, on your very well deserved Lifetime Achievement Award," said Abeer Srouji Allen, conference organizer and President and Chief Entertainment Officer at Events by Eye Candy, LLC.
In 2004, Lucy launched ​LM Gnazzo Promotion Strategies to fulfill her dream to support businesses, organizations, and groups with a mission to promote meaningful causes and #MakeItCount! Since then, she has provided diverse marketing and consulting services in the areas of public and media relations, digital media, advertising, special event planning, project management, fundraising, and promotional products.
From being tapped to serve as ​Media Representative for the 2015 Red Land United States Little League World Series Champions and aiding in their successful ​Four Diamonds pediatric cancer campaign and goodwill tour, to launching the ​"Against The Odds" movie project inspired by a true story, capped off with an exciting national book launch for "Boys in the Field: A Championship Journey from Red Land to Williamsport," Lucy has enjoyed participating in the U.S. Champions' magical journey.
This year included heading up the big reveal of the​ PA Dairymen's Association Centennial Shake at the 100th PA Farm Show. Lucy also managed the national premiere of and media tour for ​Graham Hetrick's new ​Investigation Discovery television's​ successful, breakout forensic series, "The Coroner: I Speak for the Dead." In addition to working alongside the ​Pennsylvania National Horse Show​ and PA Breast Cancer Coalition, she works on other successful award-winning marketing endeavors such as ​"Fill A Glass With Hope™" which is heralded as the nation's first-ever statewide charitable fresh milk campaign, to benefit Feeding PA Food Banks​.
As an accomplished public relations professional and well-respected advisor and strategist in the state and country, she aided in the launch and development of various state and national projects collaborating with respected advocates and champions for change such as the late "Mister" Fred Rogers, Actor/Producer Rob Reiner​, and former U.S. Secretary of State Colin Powell.​
Prior to running her own business, her career started in television then went on to include working as a senior-level advisor for decades to Pennsylvania leaders such as former ​Governors Tom Ridge and Mark Schweiker, First Lady Michele Ridge, and the late Speaker of the House of Representatives Matthew Ryan, and others.
In the region, Gnazzo has served as a Founding Board Member and first Public Relations – Media Committee Chair for The Lion Foundation of Camp Hill for a decade, helping to raise more than $17 million for the students and community. She also drove publicity for Downtown Daily Bread's 30th anniversary​, helped promote The Pollock Center's Ben Gallaher "Full Speed Ahead" Tour performance/benefit for cancer with Camp Hill's Taylor Perry, marketed the Leukemia & Lymphoma Society's research and fundraising for 2016 Man of the Year Matt Flinchbaugh and his winning campaign, orchestrated the community-driven "Socks 'N Sweats​" campaign for Bethesda Mission's homeless, and led the groundbreaking and ribbon-cutting community celebrations at Camp Hill's newly renovated Siebert Park Stadium, Grace Milliman Pollock Performing Arts Center, and the Cleve J. Fredricksen Library​. Locally, she assisted Girl Scout Troops, the Toys For Tots Giving Parade​, and helped to launch Camp Hill's Relay for Life and Harrisburg's Making Strides Against Breast Cancer Walks​. She is married, has two grown daughters and a grandson.
The Conference for Women is a full-day conference fusing education, motivation, recognition, and celebrating the essence of what makes a woman truly extraordinary.