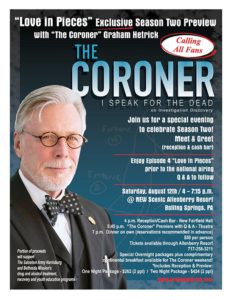 Announcing SPECIAL "I Speak For The Dead" Season Two Celebration with The Coroner Graham Hetrick on August 12 at The NEW Allenberry Resort!
Join Us for a special evening to celebrate season two!
Enjoy episode 4 "Love in Pieces" prior to the national airing. Q & A to follow.
Portion of the proceeds will support The Salvation Army Harrisburg and Bethesda Mission's drug and alcohol treatment, recovery and youth education programs.
Tickets available through Allenberry Resort (717) 258-3211