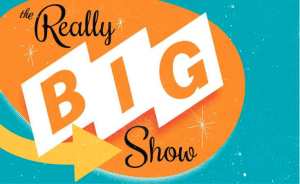 September 2, 2015 (Camp Hill, PA) – Top YouTube sensations, the best Little League team in the country, national reality television show performers, a rising country music recording artist, basketball tricksters, local artists, and more will team up with Big Brothers Big Sisters of The Capital Region for "The Really Big Show" on October 17 at the Hershey Theatre, Hershey, Pennsylvania. Former Pennsylvania First Lady Michele Ridge is the Honorary Chair of the benefit show.
Financial services firm Morgan Stanley is sponsoring the event. "The proceeds from the show will help fund Big Brothers Big Sisters' programs in the Central PA Region," said Richard Franchella, Morgan Stanley Managing Director, Wealth Management and Complex Manager of the Central and Eastern Pennsylvania Complex. "We are thrilled to be working with them on this event and to give back to the local communities and families."
"The Really Big Show," modeled after the 1960's variety show hosted by Ed Sullivan, will honor the Red Land Little League USA Championship Team and feature national celebrity talent and emerging performers including:
Off-Broadway performer, YouTube sensation actress, singer and "Queen Diva" impressionist Christina Bianco, performance painter David Garibaldi from "America's Got Talent", country music's rising star Jessica Lynn ("billed as the next Shania Twain"), jazz piano prodigy Joey Alexander, gospel singer Candace Benson from "BET's Sunday Best Gospel Competition", national stadium performer and pop singer Carissa Blu, YouTube sensation and singer/songwriter Talina Toscano, Camp Hill's award-winning singer Taylor Perry, Harrisburg Youth Symphony, PA Regional Ballet, New Jersey's Jazz House Kids, Philadelphia Singer Kat Pace, former Harlem Globetrotters (Arnold "A-Train" Bernard, Ken "Blenda" Rodriguez) and WNBA star Maggie Lucas formerly of Penn State Lady Lions.
"I am delighted to lend my support and leadership to this exciting evening of memorable music, spectacular entertainment and fun, all for a great cause," says Former Pennsylvania First Lady Michele M. Ridge. "Through the years, I have worked diligently with valuable and successful organizations such as Big Brothers Big Sisters to help provide hope and opportunity for children facing adversity. These kids need caring adults in their lives to build a better future, and "Bigs" provide that for them. All of the statistics prove we can make a difference, one child at a time and through this event, we are asking attendees to join us to START SOMETHING BIG," she adds.
Tickets are $20 for students through 12th grade or $25, $35, $49, $75 and $150 for the VIP Package that includes a special Pre-Show Party, Show tickets & Afterglow Party. The Pre-Show Party will feature Camp Hill's Taylor Perry and begins at 6:00 p.m. The Afterglow Party will include entertainment, as well as opportunities to meet & greet performers after the conclusion of the main show.
Doors open for General Admission at 6:30 p.m. / The Really Big Show curtain goes up at 7:30 p.m.
The Pre-Show Party for VIP Ticketholders starts at 6:00 p.m.
The "Littles" will hit the "Purple Carpet" at 5:30 p.m. as they enjoy a limo ride to the event and entertainment by former Harlem Globetrotters as they are greeted by WNBA star Maggie Lucas and The Red Land champs.
Limited VIP tickets available September 4 by calling BBBS at 717-236-0199. General Admission tickets can be purchased starting September 8 at www.hersheytheatre.com or by calling 717-534-3405.
BIG BROTHERS BIG SISTERS (BBBS) is guided by the principle that every child carries an inherent ability to succeed and thrive in life. For more than 100 years, Big Brothers Big Sisters has served as the nation's largest donor and volunteer-supported mentoring network. BBBS makes meaningful matches between adult volunteers ("Bigs") and children ("Littles"). They provide children facing adversity with strong, positive and enduring one-to-one relationships that change their lives for the better, FOREVER! BBBS serves youth ages 7-18 in Cumberland, Dauphin, Perry and Lebanon Counties. BBBS is supported by local donors, corporations, volunteers and a local board of directors.
THE FACTS:
Research shows that positive one-to-one relationships between "Littles" & "Bigs" pay off in measurable ways:
46% are less likely to begin using illegal drugs, 27% are less likely to begin using alcohol, 52% are less likely to skip school. Big Brothers Big Sisters serve approximately 700 children annually across four counties.
MORGAN STANLEY:
Morgan Stanley (NYSE: MS) is a leading global financial services firm providing investment banking, securities, investment management and wealth management services. With offices in more than 43 countries, the Firm's employees serve clients worldwide including corporations, governments, institutions and individuals. For more information about Morgan Stanley, please visit www.morganstanley.com.
To connect with "The Really Big Show" performers, or for more information, visit www.capbigs.org and Facebook.com/bbbscapregion, Twitter.com/bbbscapregion, Instagram.com/bbbscapregion. Look for more details coming soon about exciting new phone apps you can also download for free.