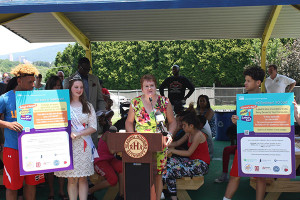 WHO:  Dr. Khalid N. Mumin, Superintendent, Reading School District
Vonda Cooke-­‐Director, Pennsylvania Department of Education, Division of Food and Nutrition  Services
Lucine E. Sihelnik, M.A., Local Food System Director, ReDesign Reading Community Development Corporation
Lolly Lesher, Berks County Dairy Farmer, Pennsylvania Dairy Promotion Program Board
The Reading High "RED KNIGHTS" Championship Basketball Team
PARTICIPATING ORGANIZATIONS:
American Dairy Association North East, USDA, PDE, Reading Mayor's Office, Berks Community Health Center, Reading Health System, Redesign Reading, Reading School District, Reading Housing Authority, Penn State Extension, Delivery Dudes, Preferred Meals, Reading Redevelopment Authority, Berks Community Health Center, Regional Reading Food Policy Action Council, Berks County Latino Chamber of Commerce.
WHEN: PRESS CONFERENCE/PHOTO OPPORTUNITY ON MONDAY, JUNE 20, 2016
Noon -­‐  1:00 PM (Press Conference begins at 12   Noon)
WHERE: Berks Community Health Center at Oakbrook, 1040 Liggett Avenue, Reading, PA 19611
WHAT:  Anti-­‐hunger advocates team up to promote the availability of FREE Summer Meals and share vital information about the program to the community. Although school is out, FREE meals are available all summer long at sites throughout Reading, the Berks County region and beyond, including schools, parks, pools and libraries. Following the Noon press conference, area leaders will serve free summer lunch to children. This is the first time that a team approach is being utilized to address the issue of feeding students during the summer months. Also, The Reading School District, is the first school district in the state to pilot summer food service at a local health care facility for the Oakbrook Mobile Site, using locally grown produce.
WHY: According to the USDA, only one in 10 children who are eligible for free summer meals actually receive meals, leaving 19 million children unserved. When school is out, families can spend up to an additional $300 a month to feed children. Getting the word out and ensuring that those in need are made aware of the availability of Free Summer Meals is vitally important to the health of children and helps families stretch their food budget. This is crucial, with all Reading School District students qualifying during the school year for free meals.  In Pennsylvania, 1.76 million people are at risk for hunger, including 521,000 children. This means one in five children face food insecurity. In addition, 40 percent of those served by The Greater Berks County Food Bank are children under the age of 18.
A special rewards program is being launched where children eating a healthy meal (breakfast/lunch) at one of the City's FREE summer meal sites, automatically makes them eligible to win merchandise or a 4-­‐ pack of Philadelphia Eagles game tickets. When they get 10 stamps on their rewards card at their meal site, they can enter to win, from July 11 to August 5. The drawings will take place on August 8. The Grand Prize is four Philadelphia Eagles regular season game tickets.
READING SCHOOL DISTRICT MEAL SITES:
The Reading School District offers feeding sites at each of its 19 school buildings, plus two mobile sites in Jamestown and Oakbrook. All Reading children ages 18 and younger – and all children with special needs ages 21 and younger – can receive a free breakfast and/or lunch, no registration or ID is required. Meals are not available on weekends. Kids simply show up and receive a free, healthy meal. The program offers lunch from June 13 through August 5, every week day. For specific meal times, see below.
Breakfast Schedule (June 13 -­‐  July 7)
Elementary: 8:00 a.m.-­‐9 a.m. (Monday-­‐Thursday) / Secondary: 8 a.m.-­‐ 9 a.m. (Monday-­‐Friday)
Lunch Schedule (June 13 -­‐  July 7)
Elementary: 11:30 a.m.-­‐12:30 p.m. (Monday-­‐Thursday) / Secondary: 11:30 p.m.-­‐ 12:30 p.m. (Monday-­‐ Friday)
*Note: After July 7, sites could remain open based on participation.
 Mobile Sites Schedule (June 13-­‐August 5) Jamestown: 11:30 a.m.-­‐12 p.m. (Monday-­‐Friday) Oakbrook: 12:30 p.m.-­‐1 p.m. (Monday-­‐Friday)
To find a complete listing of ALL Summer Meal Sites: Text:  FOOD to 877-­‐877 / Call:  1-­‐866-­‐348-­‐6479
Visit: http:/www.fns.usda.gov/summerfoodrocks
FOR MORE INFORMATION, PLEASE CONTACT:
Lucy Gnazzo, 717-­979-­0692 / Brenda Beltram, 315‐491-­3318