Lucy M. Gnazzo – Together Let's Make It Count! "LIVE AND GIVE"
Recent Awards
LIFETIME ACHIEVEMENT AWARD from The Conference for Women: Be Extraordinary!
KEYSTONE AWARD FOR BEST OVERALL PUBLIC RELATIONS PROGRAM for representation of the 2015
Red Land Little League U.S. World Series Champions, from The Central PA Chapter of the Public Relations Society of America
In 2004, Lucy M. Gnazzo launched LM Gnazzo Promotion Strategies to fulfill her dream to support businesses, organizations and groups with a mission to promote meaningful causes. She utilizes her media, public relations, government experience and personal insight to help launch creative, new projects with purpose. Since then, she has provided diverse marketing and consulting services in the areas of public and media relations, social media, advertising, special event planning, project management, fundraising and promotional products.
From being tapped to serve as Media Representative for the 2015 Red Land United States Little League World Series Champions and aiding in their successful Four Diamonds pediatric cancer campaign and goodwill tour, to launching the "Against The Odds" movie project inspired by a true story, capped off with an exciting national book launch for "Boys in the Field: A Championship Journey from Red Land to Williamsport," Gnazzo has enjoyed participating in the U.S. Champions' magical journey.
Projects have included heading up the big reveal of the PA Dairymen's Association Centennial Shake at the 100th PA Farm Show, leading marketing initiatives for the Mushroom Farmers of PA including the state rollout of the new Blended Burger and the National Mushroom Festival, along with new products and a special PA Farm Show BBQ contest for PennAg Industries. Gnazzo also helped manage the national premiere of and media tour for Graham Hetrick's new Investigation Discovery television's successful, breakout forensic series, "THE CORONER:  I SPEAK FOR THE DEAD."  Teaming up with American Dairy Association North East, she shined a light on the state's Summer Meals Rock program for hungry children.
In addition to working alongside the Pennsylvania National Horse Show, PA Breast Cancer Coalition, High School Sports Live,  the Camp Hill School District,  PA State Resource Family Association, PA Soybean Council, PA Coalition Against Rape, and various other groups, Gnazzo has collaborated to brand promotional campaigns, build widespread awareness, and bolster marketing strategies. She helped launch several new entertainment shows including "The Really Big Show" featuring national performers to benefit Big Brothers/Big Sisters, and, "Music is Food for the Soul" for the Central Pennsylvania Food Bank, working closely with Morgan Stanley. Another successful award-winning marketing endeavor being heralded as the nation's first-ever statewide charitable fresh milk campaign, "Fill A Glass With Hope®" to benefit Feeding PA Food Banks, is also near and dear to Gnazzo. She works with the PA Dairymen's Association, Feeding PA, American Dairy Association North East, the Central Pennsylvania Food Bank and other partners to continue enhancing the initiative.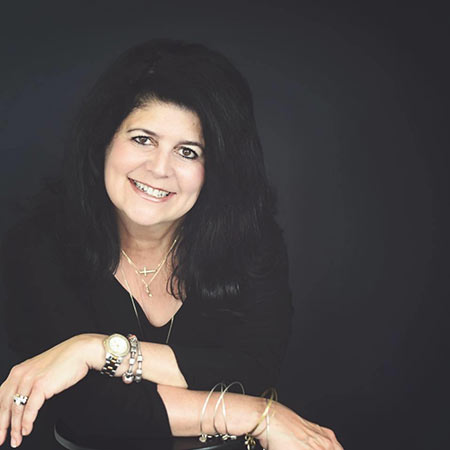 Gnazzo is an accomplished public relations professional and well-respected advisor and strategist, who has spent 35 years dedicated to communications, marketing, government relations, special events, charitable projects and initiative development in the state and country. Prior to running her own business, her career was spent working as a senior level advisor for decades to Pennsylvania leaders including former Governors Tom Ridge and Mark Schweiker, First Lady Michele Ridge, the late Speaker of the House Matthew J. Ryan, Congressman Joe Pitts, Secretary of Health Dr. Calvin Johnson under Governor Ed Rendell, Physician General Dr. Rob Muscalus and the Pennsylvania General Assembly.
Throughout her service in state government, Gnazzo aided in the launch and development of various state and national projects collaborating with respected advocates and champions for change such as the late "Mister" Fred Rogers, Actor/Producer Rob Reiner, and former U.S. Secretary of State Colin Powell.
Along with First Lady Michele Ridge, she worked tirelessly to advance Pennsylvania's achievements through the National Governors' Association, receiving national recognition for their work in building statewide research-based youth violence prevention education and outreach strategies and acclaimed family literacy programs. As Chief of Staff and Press Secretary to the First Lady, she managed all initiatives undertaken by Mrs. Ridge, as well as the staff at The Governor's Residence, and was the First Family's spokesperson.
Over the years, she aided House and Senate leaders in the area of public relations and special commemorations, such as the Bicentennial of the U.S. Constitution, the Battle of Gettysburg 125th Anniversary Commission, and President Eisenhower's 100th Birthday Anniversary. In addition, she hosted and helped launch a statewide public affairs program on cable television featuring the state's lawmakers. She served as a senior press aide on Governor Tom Ridge's initial campaign for Governor and later became communications director for his first Inaugural, managing the needs of hundreds of media outlets, serving as a spokesperson, and planning live programs, satellite feeds, and events.
Prior to working for the Commonwealth, Gnazzo focused on public relations for the PA Bar Association. She started her professional career as a television producer for public station WITF-TV, where she produced award-winning local and statewide public affairs programs, as well as numerous live broadcasts.
In the region, Gnazzo has served as a Founding Board Member and first Public Relations – Media Committee Chair for The Lion Foundation of Camp Hill for a decade, helping to raise over $17 million for the students and community. As a volunteer, she also drove publicity for Downtown Daily Bread's 30th anniversary, helped promote The Pollock Center's Ben Gallaher "Full Speed Ahead" Tour performance/benefit for cancer with Camp Hill's Taylor Perry, marketed the Leukemia & Lymphoma Society's research and fundraising for 2016 Man of the Year Matt Flinchbaugh and his winning campaign, orchestrated the community-driven "Socks 'N Sweats" campaign for Bethesda Mission's homeless, and led the groundbreaking and ribbon-cutting community celebrations at Camp Hill's newly renovated Siebert Park Stadium, Grace Milliman Pollock Performing Arts Center and the Cleve J. Fredricksen Library.  Locally, she has assisted Girl Scout Troops, the Toys For Tots Giving Parade, and helped to launch Camp Hill's Relay for Life and Harrisburg's Making Strides Against Breast Cancer Walks. She is married to Paul and has two adult daughters and a grandson.